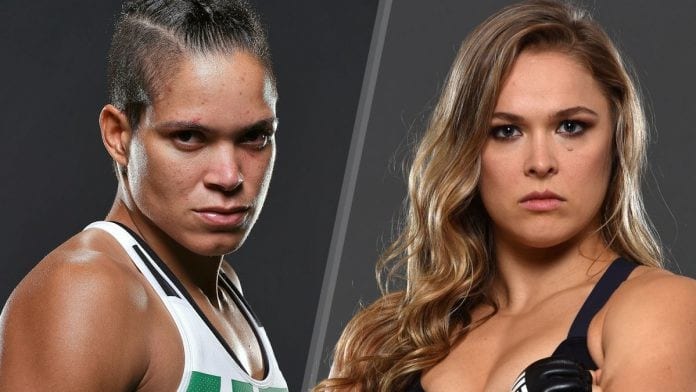 UFC commentator Joe Rogan noted earlier this week that he found it "bizarre" that the majority of promotion surrounding the upcoming women's bantamweight title bout between champion Amanda Nunes and Ronda Rousey was centred around the return of Rousey, with little mention of the skills of the current titleholder.
Writing on Twitter, Rogan noted that "I find it extremely bizarre that all these UFC 207 promos only focus on Ronda and very little about the champion. Ronda deserved every bit of hype she got, but Holly KO'ed her, Miesha choked out Holly, and Amanda smashed Miesha. That should be respected."
On one hand, this isn't exactly all that surprising. Rousey earned her place at the summit of mixed martial arts owing to her astounding rise through the women's 135-pound fold, cutting her way through challengers like a hot knife through butter.
All of that came crashing down though, temporarily at least, with one headkick from Holly Holm in November of last year in Melbourne.
Since then, Rousey has distanced herself somewhat from the sport in which she made her name. She hasn't participated in the traditional forms of mixed martial arts media, preferring instead to give interviews to more mainstream platforms such as the Ellen DeGeneres Show (in which she said that her time in MMA was coming to an end sooner rather than later) in a marked move away from the traditional means of UFC fight promotion.
Nunes, meanwhile, sits atop the division that Rousey was once the ruler of. Considering Rousey's star power it's probably understandable that the majority of hype surrounding their upcoming clash is squared around Rousey's return but Nunes, who won the title so conclusively from Miesha Tate in the main event of UFC 200, deserves more than just being considered as "Rousey's opponent".
Not that she is letting this get to her.
Roger Krahl, who is Amanda Nunes' striking coach, says that once the first bell rings in the main event on December 30th, fans will know who the most dominant female fighter in the world is.
"Amanda Nunes is a beast", Krahl says. "She doesn't just do one thing, she does everything. She does elbows, spinning techniques, jumping techniques and everything is hard [and] with bad intentions like you stole her lunch money."
Mike Brown, coach at American Top Team, agrees.
"Her ability to use distance and a large variety of attacks is what makes her real dangerous", says Brown. "I see her with the title [after the bout], honestly."
As for Nunes herself, she remains confident that she has enough about her to inflict Rousey's second successive defeat inside the octagon.
"Everybody is going to see a real champion", Nunes said "I've always been focused, you know? Now it's another level. I'm ready for this next step."
Whatever happens at UFC 207 next week, it will go a long way to showing who exactly the best women's bantamweight fighter in the world is — and Nunes appears certain that it is her.
Comments
comments