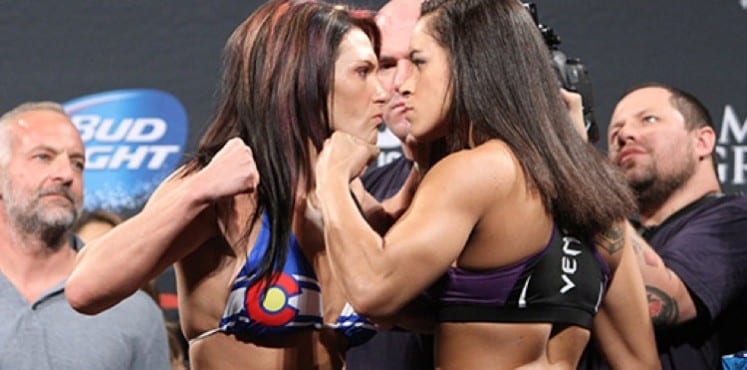 When Amanda Nunes defeated Ronda Rousey at UFC 207 to retain her women's bantamweight title, it seemed the Brazilian had a lot to get off her chest. Constantly overlooked by the UFC in the promotion to the fight, Nunes made sure to make the most of her moment in the spotlight by giving some of the best post-fight interviews of the year.
And of course, while fans and media were eager to listen, the talk rubbed a few of the champions 'colleagues' the wrong way — case in point, Cat Zingano.
After Nunes won the fight, Zingano brought attention to the fact that the 135-pound Queen appeared to have an issue with her, after showing Nunes had blocked her on Instagram. The two of course have a history, with Zingano surviving a two round drubbing to fight back and defeat Nunes in the third of their UFC 178 bout in 2014.
I go to take a look at the belts, just to find I've been blocked by the @UFC champ, @Amanda_Leoa …sheesh. Why you mad homie? 😒😏😈 pic.twitter.com/cReF4Irptz

— Alpha Cat Zingano (@CatZingano) January 1, 2017
As typical of the Lioness' new found outspokenness, she's not making an apology.
"The thing that I blocked Cat Zingano from my page is because she keeps saying things that doesn't make any sense to me," Nunes said, speaking on the UFC Unfiltered podcast. "And then she goes to my page and comments things that doesn't make any sense. She's coming from two losses, she's supposed to be quiet and then work harder to get back into the top five. Or get mentally in the game again.
"I feel like if you go to somebody's page to talk about them, you have to be confident and you have to be a top contender to start talk shit. She's in a situation right now where she can't talk about nobody. She's supposed to get back in the cage and get some wins.
"I don't like to see those girls on my page, they have to think about their career. They want to talk shit about other fighters doing good."
I'm not petitioning a rematch yet @Amanda_Leoa I'll earn it. You're disrespectful of @RondaRousey & I detest you being ungrateful @ufc

— Alpha Cat Zingano (@CatZingano) January 5, 2017
While Nunes is right in saying that a rematch between the two remains off the table until Zingano can regain contendership status, a second bout would garner some interest. Nunes dominated the majority of their first contest before appearing to fade and give Zingano opportunity to come back and win.
According to Nunes though, that sudden drop in performance was due to overtraining and not being with a world class camp like she currently has at ATT.
"With that fight, I was training so hard," said Nunes. "I was like making myself crazy. The attitude I had when I fight Cat Zingano was like 'only think about training'. I [didn't] do anything outside of the gym. I [suffered from] overtraining. Even on Sundays for that fight, I was training.
"I never rested my body in that whole camp for Cat Zingano and on the night of the fight, after the first explosion, I couldn't come back from that because my body was so tired and I [couldn't] handle."
But, despite the loss, Nunes points to a difference in attitude between herself and Zingano, with the social media drama being the perfect example.
"After I lost to her, I only moved forward and grow, and now I'm the best in the world," Nunes said. "What is she going to talk about me? She doesn't need to come on my page, if she wants to see something about me or my career, she can go on Google."
Comments
comments