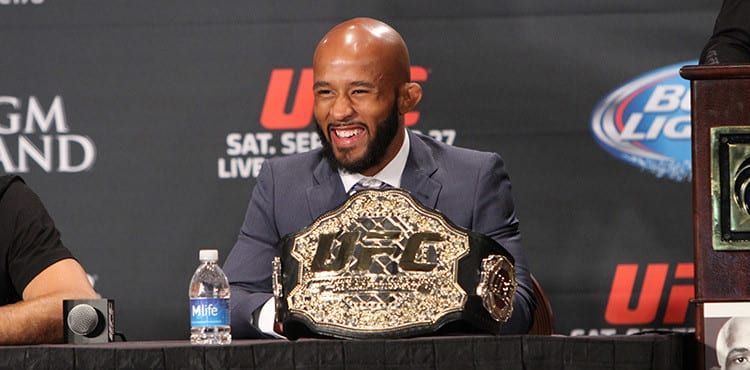 Now that 2016 is nearly over, and it's time for reflection. Looking back, it's been quite the year for MMA; legalisation, repeated broken records, a sale for $4 billion… there's a lot to digest. As such, leading up to Christmas, TheMacLife.com will be revisiting the twelve biggest stories (good and bad) from the past twelve months.
And so, with yesterday's entry regarding the return of 'large', today we focus on the consistency of 'small'.
Demetrious Johnson's 2016 has arguably been his best year yet. Always considered to be in the very top tier of fantasy pound-for-pound lists, the absence and stagnation of Jon Jones' career has left the path clear for the 125-pound king to reach the top of the list with very few arguing otherwise.
As if to drive home the point of their contrasting successes, at UFC 197 in April, Jones faced Ovince St-Preux in the main event of what was supposed to be his triumphant return. While he claimed the win, he and many watching regarded it as one of his most lacklustre performances.
In the co-main event, Johnson did something quite different.
Facing former Olympian Henry Cejudo, Johnson destroyed his opponent with a first round blitz from the clinch in a performance of the night showing. As Cejudo fell to the floor the victim of repeated knees, UFC commentator Joe Rogan bellowed a ringing endorsement into the microphone.
"He's the best," Rogan said of Johnson in the fights immediate aftermath. "He's so diverse, he has so many weapons. You see a new look from him every time, he has the most complete game of any MMA fighter I've ever seen, ever. That's the best pound for pound fighter ever."
It was after that night, perhaps due to Johnson's destruction of Cejudo, perhaps due to Jones apparent slowing down, that fans seemed to galvanise behind the flyweight king. It was also after 197, that his overwhelming success seemed to stop being a turn off to spectators.
Indeed, as some evidence of that fact, Johnson's recent title fight with The Ultimate Fighter season 24 winner Tim Elliot was one of the UFC's Fox Sports 1 cards best draws this year. Drawing 1,170,000 viewers, Johnson vs. Elliot (who was a fairly unknown commodity) garnered more fan attention than last years equivalent, which featured Frankie Edgar vs. Chad Mendes and Tony Ferguson vs. Edson Barboza, which only did 883,000 viewers.
While Jones is scheduled to return next year, and McGregor could well continue to work his way through two different weight classes causing the pound-for-pound waters to get murky again, in 2016, for a moment at least, Johnson finally started getting the attention a fighter of his ability deserved.
Comments
comments