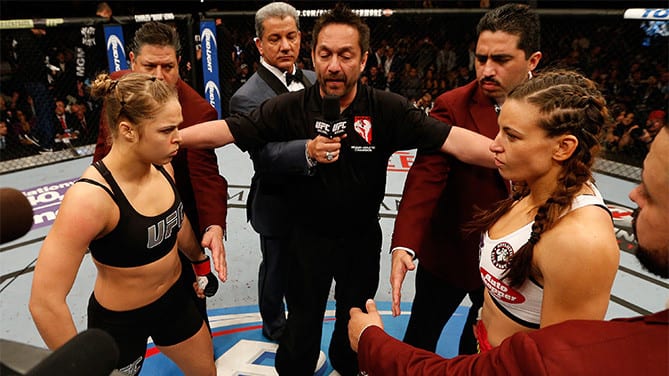 Miesha Tate's rivalry with Ronda Rousey doesn't feel over.
Even with Rousey holding two victories over Tate, there still feels like the two have been through enough peaks and valleys since their second bout that a third could look markedly different.
Now, with Rousey seemingly on the verge of walking away from the Octagon, Tate knows that her chances of evening the score are beginning to look slimmer and slimmer. With Rousey facing off against women's bantamweight champion Amanda Nunes at UFC 207, Tate — who has faced and lost to both — finds herself in a unique position. Namely wondering who she wants to get back at more.
"Obviously, I still feel like I have unfinished business with Ronda but I feel like I have unfinished business with Amanda now too," Tate said, speaking with FOX Sports recently. "Both are appealing to me. I feel like it's a little more a race against the clock with Ronda. My honest opinion, I don't know how much longer she really intends on fighting.
"This might be one and done for her, I don't know, if she wins. So that [fight] would be more pressing in the fact that I don't know when she's going to want to walk away from the sport and I will no longer have that opportunity.
"Even if she wins, who knows what her thought process is. She's been out for a long time. There has to be a reason why she's been out for a really long time. Even with a win, you wonder does she really want to do this anymore?"
These are fair questions. Rousey's appearance on Ellen (one of her few since losing to Holly Holm last year) raised alarm bells when she spoke candidly on walking away, before referring to herself as "more domesticated." All attitudes that seem far and away from the old champion who went 12-0 in a division that she was responsible for being brought to the UFC.
Yet, even if her old rival is nearly finished, Tate has no interest in quitting. Despite a bad loss to Nunes at UFC 200, the former champion intends to get back to winning ways at UFC 205, when she faces Raquel Pennington.
"I'm not done yet. November 12 is a big day for me," Tate said. "It's a day to re-establish the Miesha Tate that I want everyone to see me as, including myself, so I've got a lot of work ahead of me."
UFC 205 takes place November 12 in New York at Madison Square Garden.
Comments
comments