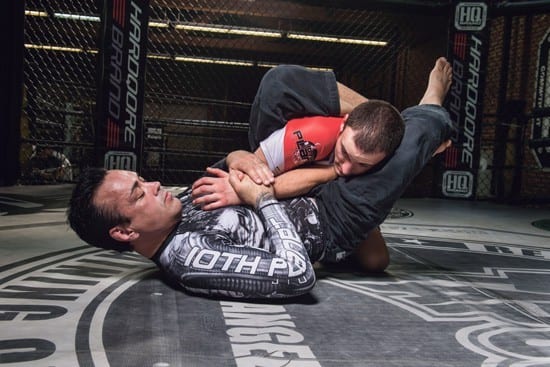 Tony Ferguson isn't scared of the ground game in mixed martial arts.
The 32 year old lightweight contender has 8 wins (out of 21) by submission in his career, with four of those coming in his last five, and part of his evolution in those skills can be attributed to a well known name in mixed martial arts — Jiu-Jitsu practitioner and legend Eddie Bravo.
Ferguson has brought in Bravo to train with him in the lead up to his fight with Rafael Dos Anjos this Saturday, and the two have spent the last six weeks up in Big Bear, California, getting acclimatized to the high altitude they'll face in Mexico City.
"I've trained a lot of UFC fighters," Bravo said on The Luke Thomas Show. "And he's right there at the top when it comes to… like I said, he just does everything right. Mentally, physically, cardio. Everything. And no one has to push him.
"Living with him, it's just unbelievable. I'm constantly reminded of how I'm not like that."
Their training will culminate tomorrow when Ferguson steps in to face former lightweight champion Rafael Dos Anjos, where Bravo will in in Ferguson's corner watching — he hopes — his pupil pulling off an impressive victory.
"He's a closer," Bravo said. "He knows how to finish[…]he's just a finisher. His jiu-jitsu MMA game is on point, one little mistake on the ground and it's over. In his last fight, he got rocked a couple of times by Vannata, one little mistake and it's over. That's the kind of weapons that Tony has on the ground. One little move, one little scramble, and it's over. He has that kind of power."
"Anything can happen, this is MMA, you never know what's going to happen. But if Dos Anjos wins, I'm going to be way more impressed than I ever have been, because Tony's on fire right now."
It's clear the respect between the teacher and student is mutual, with Ferguson even going as far as to say he values receiving a black belt from the Bravo over winning UFC gold.
UFC Fight Night 98 takes place tomorrow night in Mexico City.
Comments
comments