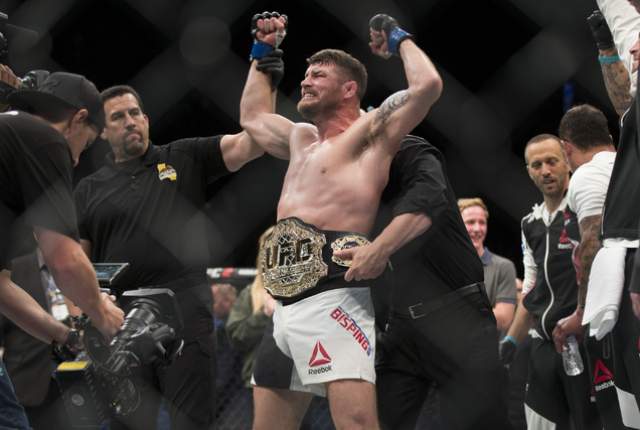 Well it took Michael Bisping all of three days to start talking again.
After a phenomenal back and forth contest with Dan Henderson on Saturday, in which the Brit defended his middleweight title for the first time. While he may have left with the belt over his shoulder, Bisping also left with huge cuts and bruises across his face.
Yet despite that, the middleweight champion isn't looking for time off — far from it. Instead, the Manchester native appeared on the UFC Unfiltered podcast to immediately start firing shots at who he wants next.
"If that fucking whiner, that crybaby Chris Weidman wants to do it then I'm more than happy," Bisping said. "If he gets past Yoel Romero next month, let's do it. I'm happy. He thinks I'm ducking him, he's fucking crazy, I've never ducked anybody in my life. I'm certainly not going to start with that fucking douchebag.
"If he wants to do it then he can come out here, he can try and wrestle me to death then he will find himself getting punched in the face repeatedly. Dan Henderson was a tough ask but I'll finish Chris Weidman for sure."
The comments come a day after Chris Weidman had said he felt "embarrassed" for Bisping, following Bisping's post-fight call out statement of all the top four contenders in the division.
"That guy had it in his head before the fight, and told himself, 'after I dominate Dan Henderson, I'm going to get on the mic and call out all these four guys and say certain things about them, and it's going to look really cool,'" Weidman said on The MMA Hour. "But the guy, he shouldn't have done that when you barely beat the No. 14 in the division.
"To get on the mic like that and call out the top four guys like he just did something impressive, I really thought Dan Henderson should have got his hand raised, so I was embarrassed for him. He can say my name a billion times and call me all the names he wants. That guy does not affect me."
As expected, Bisping wasn't too impressed.
"He doesn't stop complaining does he?" Bisping said. "He fucking feels like everyone owes him something, fucking preaches on about god and this and that. He should shut the fuck up. He's not part of God's plan. If there is a god he's got bigger fish to fry than worrying about fucking Chris Weidman fucking fighting."
The middleweight division is currently in the process of finding out Bisping's next contender. Weidman is scheduled to face Yoel Romero at UFC 205 on November 12. A couple of weeks later on Nov. 26, former champion Luke Rockhold fights Jacare Souza. It's likely that one of the two winners could receive the next title shot.
If Bisping's comments are anything to go by, he's hoping for the New Yorker.
Comments
comments