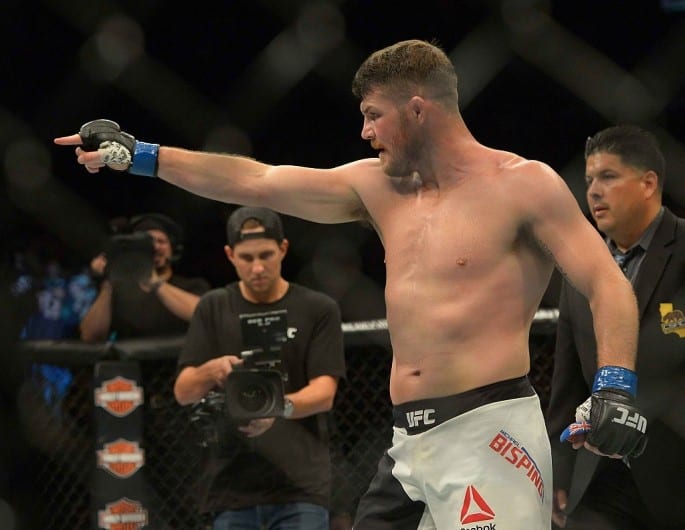 There could be some hope for UFC 206 (and Canadians) yet.
According to Michael Bisping, he's been offered and has verbally accepted a fight with Georges St-Pierre at UFC 206. All that remains, he claims, is for St-Pierre to say yes.
St-Pierre's status in the UFC has been a hot topic as of late, with him declaring himself a free agent after negotiations with the organisation repeatedly stalled. With the UFC returning to Canada for UFC 206, a GSP absence would be a significant hit to an already weak event.
After St-Pierre's news, the UFC released their own statement, insisting that St-Pierre was in fact still under contract. For a moment, it looked as if legal action could be on the horizon.
Yet, a day later, St-Pierre was seen in Las Vegas, where the head offices of the UFC reside. And now, the middleweight champion Bisping has taken to Twitter and declared that there is still a chance — so long as St-Pierre resolves his terms with the company.
@GeorgesStPierre, we all want more money. But let's go,sign the papers.Give the people of Toronto what they want, be a hero! Let's go champ!

— michael (@bisping) October 26, 2016
@daStockguy23 always down when it's been offered. I'm in SIGN THE PAPERS, let's go champ!

— michael (@bisping) October 26, 2016
@moneyismatt @daStockguy23 I verbally agreed

— michael (@bisping) October 26, 2016
They've been negotiating this fight for the last few days. #letsgochamp https://t.co/lltcEaJ8zz

— michael (@bisping) October 26, 2016
Should the UFC and St-Pierre negotiate successfully, it would make UFC 206 a must see event. It would also mean the organisation could have a McGregor card, a St-Pierre card and a Rousey card all in quick succession — something that would likely making the end of 2016 the most profitable business quarter in MMA history.
**Update**
It appears that Dana White is none to keen on the idea, according to ESPN's Brett Okamoto.
Text from @danawhite: There is no Bisping vs. GSP fight in Toronto. I know Mike wants it, but it's not happening.

— Brett Okamoto (@bokamotoESPN) October 26, 2016
Comments
comments