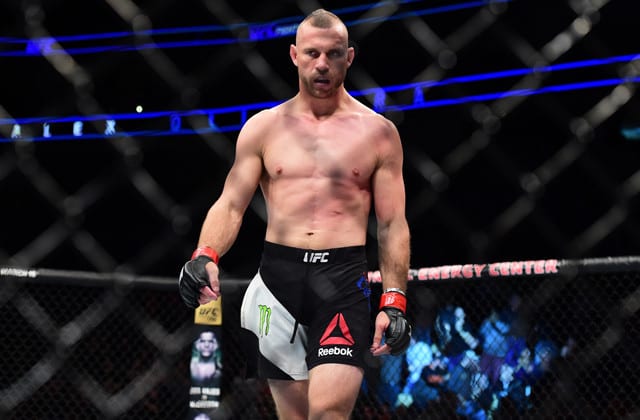 Donald Cerrone doesn't mind speaking up.
The idea of fighters getting together and forming a group to represent their needs as a whole, has long been speculated on. As of yet, despite a few attempts, none have really created much momentum to be able to successfully form a union or association of sorts.
It's often been thought that fighters avoid speaking out about the idea, so as to avoid reprisals from unsatisfied employers. Well, trust Cowboy to break the mould.
Talking with Tim Kennedy and Derek Brunson on the latest episode of his BMF podcast, Cerrone went all in as an advocate for a potential fighter union.
"I'll headline [a union]. I'm with you guys. We need the union," Cerrone said. "I've talked about this many times, I think we need strong fighters and popular fighters that can headline and let everyone know that it's okay, that we need: not only better pay, but we need dental, we need medical. And what happens if you get hurt? Where is your 401K? Where is anything? Every other sport in the world has a union."
"It's not fair to what we are doing, because like I told you the other day, if you were Derek Brunson playing football or baseball, you'd be a 10 million dollar a year guy at least. At least. And why are you not right now? Because we don't have a union, because if Derek Brunson doesn't fight, but this guy will just because, 'oh, it's the UFC! I'll do it for $2,000'.
"Our problem is guys saying, 'I'll fight for free, put me in'."
Oddly enough, Cerrone has often been pointed at by fellow fighters by being one of the athletes to accept fights too easily. Earlier this year, Nate Diaz went off on Cowboy, accusing him of harming other fighters due to his willingness to accept fights.
"Treat yourself like a business and quit [saying] 'I'll fight for free'," Diaz said on The MMA Hour. "Stupid ass Cowboy Cerrone says that shit. That's bad karma for everybody. You'll fight for free, now everybody else has got to? Why wouldn't they pay us? Because they got dumb shits like you fighting for free. Start acting like a businessman and start treating yourself like a business and get your ass paid for being in an Octagon."
Still, whether it's through hearing Diaz or a natural change of opinion, Cerrone appears, now at least, to be on the same wave length.
"We need league minimums," Cerrone said. "We need everything. We need to pay our dues. It's not only pay, it's so much deeper, what needs to be happening with the union.  When it comes, I'll be on the front lines saying, 'I'm Cowboy, I'm fucking pro-Trump and pro-union."
Comments
comments