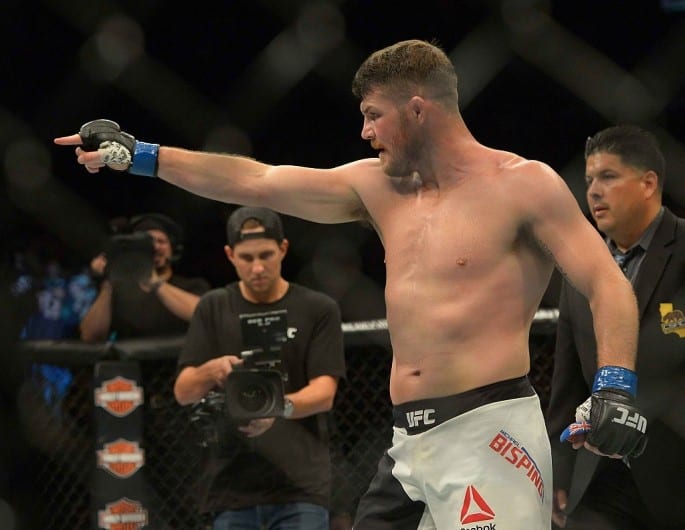 A couple of weeks ago, you'd have been forgiven for thinking Michael Bisping's next opponent would be an easy solution.
With Yoel Romero and Chris Weidman facing each other at UFC 205, and Jacare Souza vs. Luke Rockhold set for UFC Fight Night 101, it was widely agreed that the fighter to emerge out of those bouts with the best performance would receive the next title shot.
Things should have got even simpler when Rockhold was forced to withdraw from his bout with Jacare through injury. Weidman and Romero fight, winner gets Bisping. Simple.
Except it, like every aspect of Bisping's title reign, is complicated.
For instance, the Brit's recent campaign to face either Nick Diaz or Georges St-Pierre at UFC 206 — only to reveal he had a fractured orbital and knee issues that would prevent him from appearing at the pay-per-view against, say, Jacare Souza.
Now, Bisping has added another caveat in the decision on who gets to face him: don't be named Yoel Romero.
"If Yoel beats Chris, I honestly don't think I'll fight Yoel, because he tested positive for steroids," Bisping said on SiriusXM. "And I read an article recently that said it takes years for the advantages of taking the steroids to get out of your system. Just because you test positive anymore, doesn't mean you lose all the extra muscle and things like that, that you were able to achieve.
"So I think he needs [to wait] longer, and I don't see why he should be rewarded. If Weidman wins, that's the fight I want. Me and Weidman, for a little while now, I'd say probably the last year, have gone back and forth talking shit and it's a fight that interests me; one hundred percent."
Romero, perhaps as expected, wasn't impressed.
All hail the queen @bisping you only mention my name when you don't want to fight. I will see you soon #ynuevo pic.twitter.com/HDmwNUN4ub

— Yoel Romero (@YoelRomeroMMA) November 4, 2016
Comments
comments