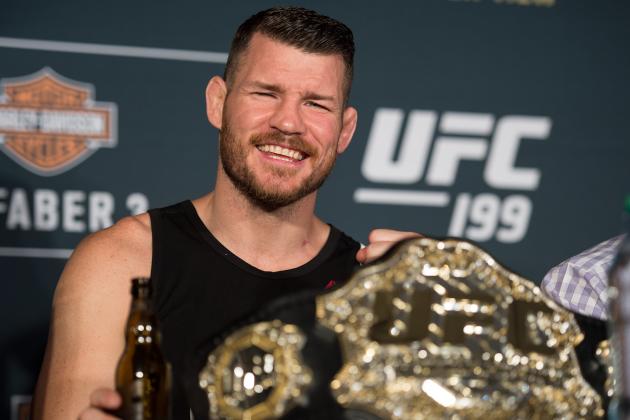 The middleweight has arguably four of the top contenders in any division.
Yoel Romero, Chris Weidman, Jacare Souza and Luke Rockhold are all just one fight away from facing Michael Bisping for the championship, and wouldn't you know it, they've all been paired off together.
Weidman is set to face Romero at UFC 205 in New York, while Rockhold meets Jacare 'down under' in Australia shortly after. It's like that whomever of the four has the best performance will lay claim to the next title shot.
If it were down to the champion though, he'd go for the New Yorker.
"I think I'd like Weidman, to be honest," Bisping said on The MMA Hour. "If Weidman can get past [Romero] that would be a fight that would interest me. It seems like me and Weidman have this rivalry now. I've got nothing against Weidman, he likes to talk shit on my career, and I'll do the same on his. But I wish him all the best. Competition aside, he seems like a good guy and a good dude.
"But we've been talking a lot so I guess we got to settle it in the Octagon, so if he gets past Yoel Romero, which he's got his hands full there, if he does then I'll happily fight him next. I believe he's a good match up for me."
Two weeks ago, Bisping defended his belt against Dan Henderson, a fight he didn't emerge from unscathed. Despite that, the Brit doesn't feel like taking a prolonged time away and aims to fight again in February or March of next year.
It marked the first title defence of Bisping's reign as champion after defeating Luke Rockhold for the strap at UFC 199. The two are now one a piece, a situation in MMA that is usually resolved with a third meeting — although Bisping isn't necessarily too keen.
"Business wise, nobody really cares about Luke Rockhold," Bisping said. "Unfortunately business wise, nobody cares about Chris Weidman either, so I don't think either of them really make me that much money. Unfortunately they're probably the best two guys in the division other than me, and nobody gives a shit about them. Nobody gives a damn. That's why Chris Weidman couldn't main event a pay-per-view, he was always the Co-Main Event. But I'll just take on the best challenges."
In regards to criticisms that he took the easiest fight available in #13 ranked Dan Henderson, Bisping has always been pragmatic. The bout, he says, represented a last opportunity to get revenge for a devastating loss in their first fight at UFC 100. With that now out of the way, the champion is ready to take on all comers.
"I know what people said about the Henderson fight," Bisping said. "But the UFC came to me with the match, I didn't ask for it. I said 'yeah sure', and now I'm happy to take on whoever the true number one contender is. We'll see who wins these fights and whoever it is, I'll happily fight.
"Whoever wins, the worthiest opponent, then we'll do it."
Comments
comments