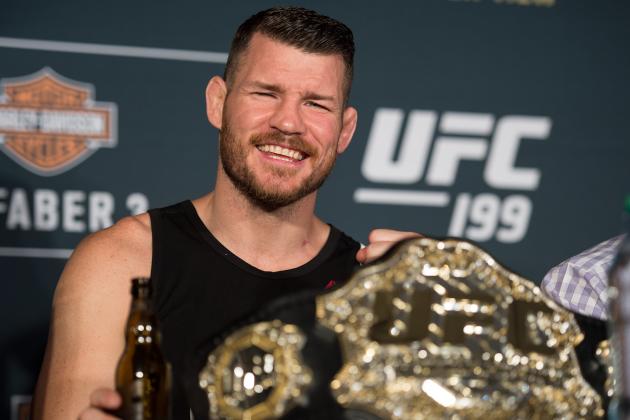 Michael Bisping isn't a fan of steroid users.
The middleweight champion, who has long been one of the sports loudest supporters of drug testing, has found himself on the losing side against one too many a fighter known to have been on some form of enhancing drug.
So with that in mind, perhaps it's not surprising about his thoughts on former UFC heavyweight champion Brock Lesnar, who is currently going through the arbitration process with USADA after failing a PED test in the lead up to UFC 200.
"Listen I respect any man that steps into the octagon because it takes balls," Bisping said, speaking on The Ric Flair podcast last week. "But if you have to go in there and take steroids to do it? Fuck you, you pussy son of a bitch. Kiss my ass."
While news has recently emerged that Lesnar is suggesting he could have inadvertently ingested the banned substance via eye medication, Bisping was typically blunt in his analysis of the wrestling star.
"I will knock Brock Lesnar out with one fucking punch. I will pick him up and throw him out of the octagon like the pussy that he is. Am I making myself clear? Fuck you Brock Lesnar, fuck steroids! Fuck all you fucking f**gots that want to come in here and take steroids. Am I making myself clear?
"I shouldn't have used that [derogatory term], sorry about that, but other than that, steroids are the scourge of this sport, and anyone who takes them: kiss my ass.
"He's a big son of a bitch but as I said. Real men don't cheat in a real fight. In your world, it's entertainment, you have to look good, you have to be big and it's expected for the audience. You guys good for you, good for you. In a real fight we shouldn't be cheating and taking steroids."
Comments
comments