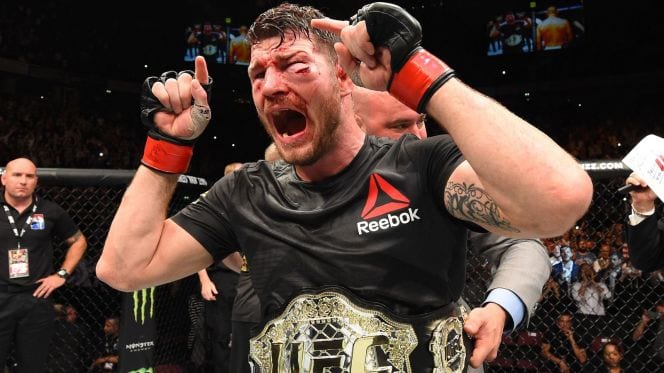 When Michael Bisping and Dan Henderson's bout at UFC 204 was announced, there was plenty of criticism.
At 46 years old, people pointed to the number #13 ranked Dan Henderson as being unworthy of a title shot, particularly when he had looked relatively unimpressive in his previous few showings. Add in the fact it was set to be the last fight of his illustrious career, and it's understandable why so many felt assured Bisping was walking out with an easy victory.
Not that Bisping felt the same.
"Do you know how hard it is — and regardless of whether or not he's getting old — when a guy knocks you out cold?" Bisping said speaking on SiriusXM's "The Countdown". "[When a guy] dominated you the first time, knocked you out cold, and I didn't talk about this before the fight because I didn't want to think about these things.
"The day of the fight, in bed, you're alone with your thoughts and I had a lot of nerves. The lat time I went up against this guy, he beat the living daylights out of me, and knocked me into oblivion. I was unconscious for a very, very long time and I didn't have my faculties for a couple of hours the first time I fought him. So that took a lot of balls."
It turned out he was right to worry. The middleweight champion found himself dropped by the infamous 'H-Bomb' in both the first and second rounds, with both shots mirroring the one that put an end to the duo's first encounter at UFC 100.
"And no one else in the division is capable of doing that quite like Dan Henderson," Bisping continued. "So anyone that says I was looking for an easy payday, they can kiss my ass. I was trying to get revenge on the toughest, most devastating loss that I went through, or that anybody's ever been through in the UFC."
Comments
comments