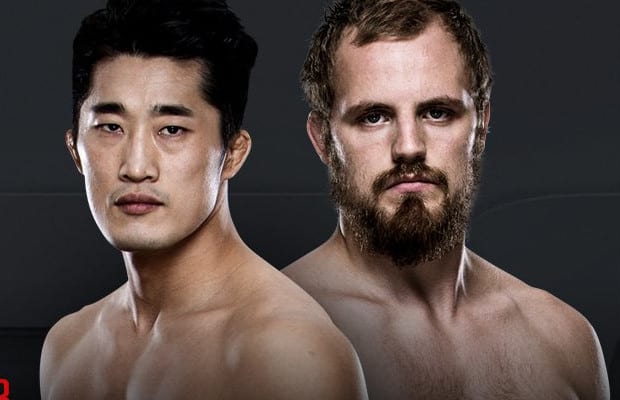 The UFC returns to Belfast on November 19th for the promotion's first event in Northern Ireland since UFC 72 in 2007 and Dong Hyun Kim is sure he has the necessary skills to return to South Korea with a win over Gunnar Nelson in the main event.
'Stun Gun' holds UFC wins over the likes of Matt Brown, Nate Diaz and John Hathaway and is determined to play spoiler to Nelson, the Icelander who splits his training time between SBG in Dublin and Mjolnir in his native Iceland, in his first bout on Irish soil since July 2014.
While Nelson is likely to have the support of the fans in the arena, Kim says he isn't going to let that phase him.
"That kind of loud and passionate atmosphere can be both an advantage and a weakness", Kim said as quoted by FloCombat. "There's enormous pressure towards the fight, so I personally prefer to fight at enemy's turf. I don't know exactly how Gunnar is, but my feeling is that he's not the type that fully enjoys that kind of attention like Conor McGregor."
"The kind of know-how learned from fighting relentlessly for the last nine years doesn't just go away, and I believe it will come into play at the most needed moment. I'll probably walk into the Octagon with a lot of booing, but if I put up a good fight, I will win their respect and I know they will be clapping as I walk out."
Nelson, meanwhile, comes into the fight on the back of arguably the best win of his mixed martial arts career when he choked Albert Tumenov into submission in the second round of their clash in Rotterdam last May and the winner of this bout is likely to break the top ten of the welterweight division which is currently ruled by Tyron Woodley.
Kim wants to be that guy and, while he acknowledges that Nelson's jiu jitsu is among the very best in the division, he says that he has all the tools to shut it down.
"I did not get 12 wins just by grappling and I will show everyone what I'm made of. I will prove my advanced MMA grappling skills outclass his stellar jiu-jitsu. My strategy will be to flow like water in every contact and find his weakness."
Comments
comments