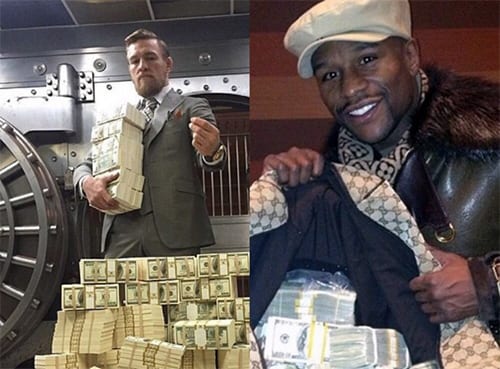 "Get my fucking money!"
Conor McGregor has laid the gauntlet down to Floyd Mayweather in no uncertain terms. Rumours first began spreading last May that Mayweather and McGregor were conducting informal discussions about the possibility of a high profile bout between the two biggest pay-per-view draws in prizefighting — rumours which were questioned by MMA and boxing media, as well as Dana White.
Many commentators, citing the details of McGregor's contract which ties him to the UFC, dismissed the potential for a bout between the Irishman and 'Money' Mayweather but now – several months after these rumours first appeared, Conor McGregor continues to stoke the flame.
On a Facebook live chat last night, McGregor dictated his terms on what it would take to get him to square off with Mayweather.
"Floyd is afraid of a fight", McGregor said. "Floyd doesn't want a fight. Floyd wants a boxing match. I've already said no problem. Get my fucking money. When you get my money then we can box in this boxing match. Under these set of specific rules that will keep you alive.
"I'm here. Where's my money? Because if you keep dropping my name and you have not got the money then I'm going to show up at your front door. Floyd does not want to fight. Floyd wants a match under a specific set of rules. I don't need rules. I am open. Lets see what happens. Right now it's just talk."
Somewhat interestingly, and in a departure from his previous comments on the subject, UFC president Dana White for the first time refused to rule out a potential showdown between McGregor and Mayweather.
Speaking to Skip Bayless on Fox Sports 1, White said: "You can't say it's not interesting. You can actually sit there and as you start picking it apart, thinking about it, it's interesting. I'd never say never."
See More: Conor McGregor promises to 'set the game alight' after UFC 205
Comments
comments