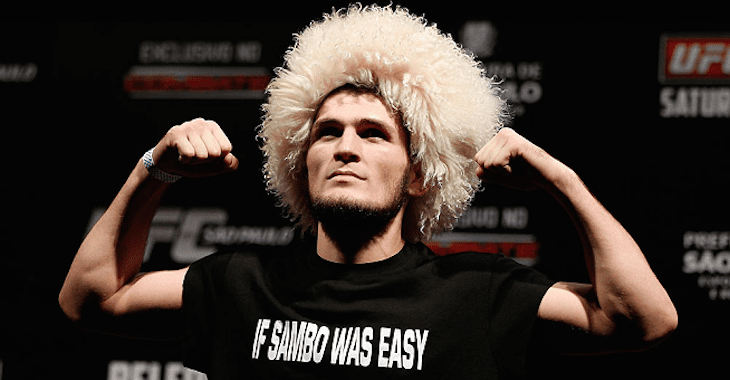 The main event of UFC 205 continues to generate storylines.
Despite Eddie Alvarez and Conor McGregor's bout garnering attention and excitement amongst fans, the reaction amongst fighters hasn't been quite so upbeat. Today, Khabib Nurmagomedov became the latest member of the UFC roster to voice his displeasure over the match-up.
In an interview on SiriusXM's The Luke Thomas Show, Nurmagomedov made it clear that he felt he had been wrongfully passed over so that McGregor could receive a shot at the 155-pound title, and that should it happen again, he is prepared to take drastic action.
"Eddie understands who is who," Nurmagomedov said. "Eddie and all his coaches know this is very tough fight for [him], that's why he not take this fight. Eddie said 'I want an easy fight'. No, you're champion. You fight #1 ranked, and #1 ranked is not [an easy fight]. For me, it's a crazy situation. But it's ok, life is going and I'm going to keep going and I'm going to finish Michael Johnson at UFC 205 and after this I'm going to fight for the title.
"If UFC don't give me title after this fight — I don't care about unanimous decision, split decision, first round KO — after this fight, if I win, I deserve my title shot. And If I don't fight after this fight for the title, I'll never fight in the UFC no more.
"I'm gonna show how I have power in Russia. Because UFC think Conor have power? I have power too. This is not all about pay-per-view. I have power too. I'm gonna show this power."
When Nurmagomedov expands further on said 'power' and what it can achieve, it's clear he doesn't just mean ridding the UFC of a lightweight contender by him leaving, rather hinting that he would make moves to halt the UFC's business progress in Russia.
"UFC thinks Conor has power?" Nurmagomedov said. "Ireland only has like 6 million people. I am from Russia; Russia 150 million people[…]I'm going to show how I have power in Russia and I know if I don't fight for the title next fight, UFC will never ever go to Russia."
Even in the wake of a super-fight between McGregor and Alvarez being confirmed, Nurmagomedov had still garnered sympathy from various MMA fans. With negotiations between the UFC and Alvarez seemingly stalling, the organisation threatened to pull Alvarez from fighting McGregor, and instead have him face the Russian.
Nurmagomedov, who was unaware of his role in those negotiations, felt he was genuinely being offered the next shot at the UFC lightweight title and posted a picture of two signed fight contracts against the champion on Instagram.
When instead it was revealed that McGregor had received the shot, Nurmagomedov became upset. To make an effort to placate the Russian, they booked him against Michael Johnson at UFC 205. It looks as if there is some work still left to do in that regard.
With both Nurmagomedov and interim featherweight champion Jose Aldo claiming they're ready to leave the company, UFC 205 is starting to become the biggest event in UFC history — with the biggest side-effects.
Comments
comments