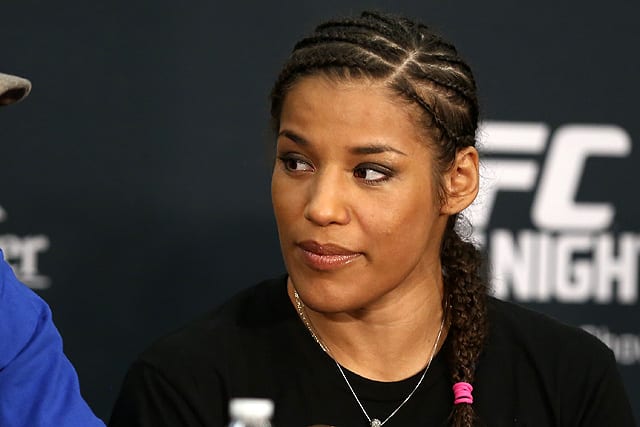 Julianna Peña is, as usual, fired up.
After an impressive victory over Cat Zingano at UFC 200, the 'Venezuelan Vixen' felt a title shot against champion Amanda Nunes (who won her belt on the same event) was the only logical next move.
However, with a returning Ronda Rousey on the horizon, the UFC reportedly offered Peña a fight against Valentina Shevchenko instead. But despite Shevchenko making waves in her last appearance by handily defeating former champion Holly Holm, it's not a bout that, to put it mildly, interests Peña.
"I've never been targeting Valentina, I'm not trying to go backwards," Peña said when speaking on The MMA Hour, Monday. "I'm trying to pick the fights that propel me forward. I wanna fight for the belt, and I want to fight the best girls in the world. I want to get excited for fights, I want to get out of bed in the morning and think 'I am ready to frickin' go hit the heavy bag or punch someone in the face' and just picture Amanda's face on it or Ronda's face on it.
"If they're not saying come fight Amanda or come fight or Ronda, then nothing really interests me until that[…]They didn't call me and say 'hey you're fighting Ronda' or 'hey you're fighting Amanda' so I said cool, when you guys are ready for me to fight those two girls, you call me up and let me know. I'm ready, I'm ready to go, I'm ready to fight those girls."
Peña isn't basing this on nothing. Currently ranked #5 in the women's bantamweight division, when comparing her record to the others around her shows she might have a point.
Nunes is champion, whom Miesha Tate (#1) just lost to, Rousey (#2) and Holly Holm (#4) are both coming off of losses. That all leaves Shevchenko at #3, who has a 2-1 record in the UFC, with her loss also coming to the champion.
Something, Peña feels, puts her next in line for the title shot.
"I'm the only girl that's consistently winning," Peña said. "If this was a tournament format like it was on The Ultimate Fighter, I don't even know how some of these other girls are still in the tournament. They're still winning, and [their records are] 1-1-1 and then they're offering me to fight them when I'm 7-0, and I've not even been beat up in a fight before.
"Who is [Shevchenko]? Is that that girl who is 1-1-1? Is that the girl who keeps getting split decisions and has never finished a fly? What has she done in the division, I wanna know, you think about putter her up against Miesha or Cat [Zingano], you think she's going to escape those ones and get out of those fights alive? Forget about it; who is this chick?"
Yet despite Peña's comments, it's clear her perspective isn't seen by everyone. When UFC President Dana White was asked on Twitter why he hadn't booked Peña in a title fight against Nunes, he was fairly emphatic in his response.
@PhoenixFitnessK @MMAFighting @UFCEurope @ufc @seanshelby @VenezuelanVixen @Amanda_Leoa not turn down fights she's offered

— Dana White (@danawhite) October 4, 2016
Recently, Rousey's coach Edmond Tarverdyan stated that a title fight with Nunes could take place on the UFC's end of year card, which would be UFC 207 on December 30. Unfortunately for Peña, she may have to wait well beyond then before she receives the call she wants.
Comments
comments