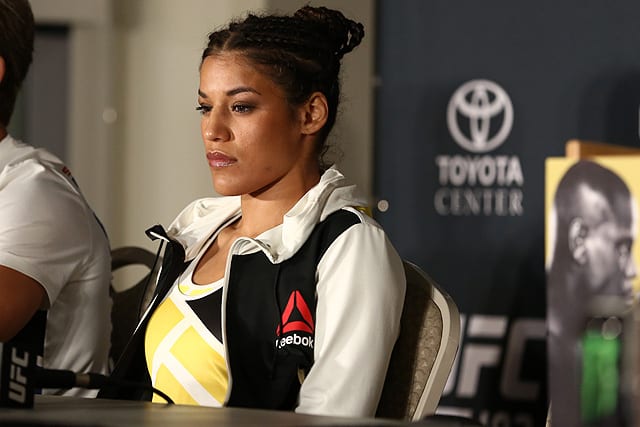 While Ronda Rousey's return at UFC 207 has delighted the fans of one of the most popular MMA superstars on the planet, one person not so enthusiastic about her return is Julianna Pena.
'The Venezuelan Vixen' has been vigourously campaigning for a shot at the women's bantamweight title Rousey lost to Holly Holm last November. The title has since switched hands to Miesha Tate and, now, Amanda Nunes as the division's elite look to establish themselves atop the division amidst the power vacuum that has formed in Rousey's absence.
However, it was announced yesterday evening by Dana White, that Rousey will be granted an immediate title shot on her return and will face Nunes in the main event of UFC 207 on December 30th.
Pena, however, has won four straight fights in the UFC (add three to that if you count the bouts she won on the way to claiming the TUF 18 win in 2013) and maintains that she is the rightful number one contender.
And she's willing to do everything in her power to make her point, even if that means leaving the UFC.
Speaking to MMAFighting, Pena said: "It's bullshit. That spoiled brat has gotten everything handed to her, and she's getting everything handed to her again. It's bullshit. I have no idea. Never in the history have I ever heard of somebody have a no-controversy brutal knockout, then quit the sport, and then comeback and get a title shot right away."
"The girl is mentally weak and Amanda Nunes is going to fucking knock her out and expose her ass. She's literally the worst fighter on the roster, and I can't stomach the fact that I'm not getting the title shot. I don't know how they conduct business over there, but they're going to do what they want no matter what, so there is not really much I could do. Back to the drawing board I guess."
Pena left the door open to quitting the UFC in favour of signing a deal with Combate Americas who, she claims, would give her a belt immediately upon signing – much like how Rousey was awarded her UFC title after switching over from Strikeforce.
"[Leaving the UFC] is definitely something that I would consider, you know. It's starting to become a fake toy belt. I fight for money, I'm a prize fighter. So if somebody else wants to give me more money, I'll gladly sit down at the negotiating table and see what's going on and what's being offered."
Comments
comments