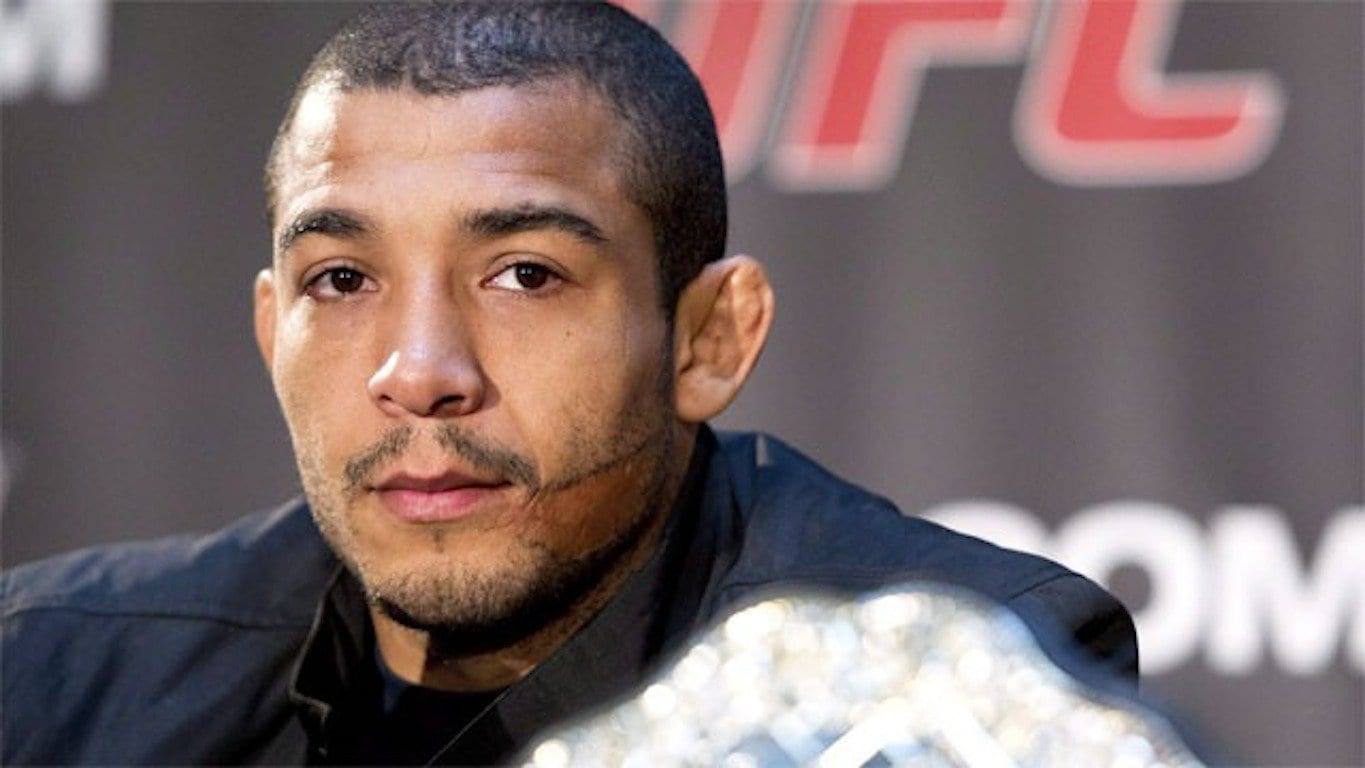 Today, Jose Aldo met with UFC brass in Las Vegas to discuss his future with the company, after previously calling for the organisation to release him from his contract.
While that didn't happen, the interim featherweight champion did feel better about his situation after sitting down with UFC President Dana White and UFC matchmaker Sean Shelby.
"I didn't come here just wanting to cancel my contract or be released," Aldo said speaking with ESPN's Brett Okamoto (through a translator). "I came here because I had a lot on my chest, a lot of things I wanted to say and I thought that saying them in person was the professional approach and the proper approach to take with them. I thank them for their time and for the opportunity to get things off my chest.
While his release didn't get confirmed, nor did the meeting change his mind, Aldo did seem to hint at a potential positive outcome for both parties involved.
"I came here from Brazil already with my ideas firmly fixed in my head," Aldo said. "My current intention is to no longer fight, that hasn't changed. That's how I felt when I left Brazil, and thats how I feel still today. I think we had a good first conversation today, I think probably there's a few conversations that will have to happen down the road, but we'll see.
Of course, Aldo isn't the only fighter to make headlines with requests for contract dissolution. Georges St-Pierre announced his free agency on Monday, after claiming the UFC were in breach of contract. While that case looks like it may end up being contested in court, we won't see something similar coming from Aldo.
"No, no, no. Theres no reason to [take this through legal channels]," he said. "I'm not that kind of guy, I'm a man. I came here, no one made me come here. I wanted to be here, I wanted to have a face to face conversation, man to man and make my feelings known — not through statements made to third parties and misinterpreted, or mistranslated. I want to sit down with Dana and Sean and tell them how I felt personally. That's all I wanted today.
"Today was just a first conversation, we might be headed down a better path, there's a lot of transitions happening in the UFC. They're under new ownership, they're going to have new ideas, new priorities, new methodologies, and we'll see what direction they want to take their business and we'll see what that means for me
"I don't just think of myself, I don't think of Jose Aldo the fighter, the individual. I think of the whole category of fighters, and with the new ownership and all the transitions that they're taking, I can only hope that they come in with good ideas for the benefit of all the fighters, so things can improve for everybody, not just for me."
While the talks may have been productive, and cleared some of the air between Aldo and the UFC, the featherweight great still maintains he'd rather see his fighting career behind him — although didn't completely rule out competing again.
"If I had no contracts, if I had nothing binding me, nothing forcing my hand, I don't think I have the motivation to fight right now," Aldo said. "I don't think that's something I would be doing. But of course, I have a contract, I respect that. I respect the obligations they're in.
"I came here to have a conversation, to have a dialogue, to speak face to face and that went really well. I feel good about that, I feel good about where we're starting from here. So lets's see what happens."
Comments
comments