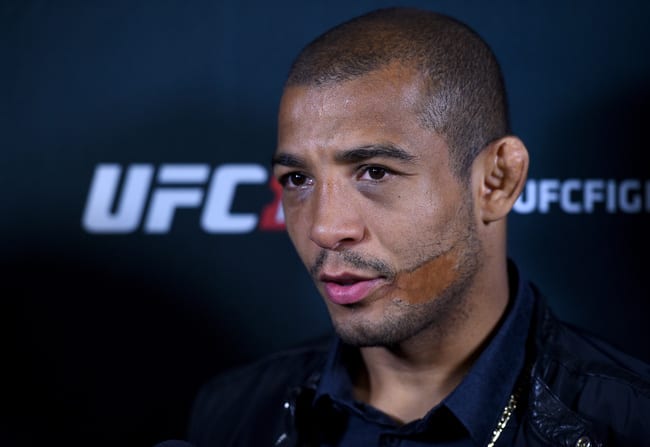 With rumours circling that UFC 205 will be headlined by Conor McGregor facing Eddie Alvarez for the lightweight title, the question remains about what will happen to the featherweight division.
With UFC president Dana White previously stating that in order for the Alvarez-McGregor bout to take place, McGregor would have to vacate his featherweight championship, people are looking to Jose Aldo.
Aldo won the interim featherweight title against Frankie Edgar back at UFC 200, to for the next title fight and, should McGregor relinquish it, is likely to inherit the undisputed belt he had previously lost to the Irishman at UFC 194.
Speaking on Brazillian show 'Revista Combate', Aldo was asked about who he'd like to face next, as well as if he would be saddened by missing out on a rematch with McGregor.
"I'm already frustrated," Aldo said. "With all these things happening, I'm already really frustrated. Let's see what happens. Every night I ask god "please give me another chance. Let me get in the Octagon against him, I know that it will be different this time."
In the absence of McGregor, Aldo would likely face either #3 ranked Max Holloway, or newly #6 ranked Anthony Pettis.
Pettis is a new contender at featherweight, defeating Charles Oliveira in his divisional debut, after dropping down to the division since losing three straight at lightweight.
Holloway on the other hand, rides a 9 fight win streak, with his last loss coming to current champion Conor McGregor in 2013.
"But [the McGregor rematch] doesn't end up happening," Aldo said. "I [would] rather end up fighting Pettis. I think nowadays, I've learned a few things with [the UFC]. There's more than just the rankings, like, there's a ranking order for title shots, no. I have to tend to the business side too. I think a fight against Pettis will sell a lot more than one against Holloway."
Dont make me lose respect 4u @Josealdojunior Im the $$ fight! But if I was u I wouldnt want 2fight me either #nobodydoes #nancys #maxforgold

— Max Holloway (@BlessedMMA) September 13, 2016
Watch the interview with Jose Aldo (uploaded by Reddit user Mudo675) here:
Comments
comments