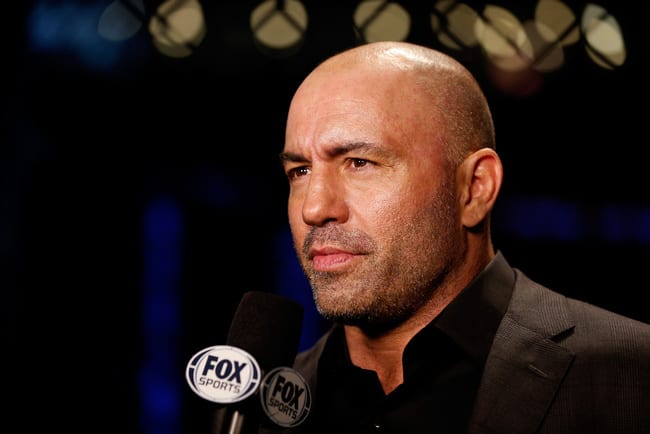 Cris 'Cyborg' Justino may have defeated Lina Länsberg on Saturday night, but the debate about her status in the UFC rages on.
Currently making appearances in the promotion at a catchweight of 140-pounds, Cyborg's struggles with making the weight are well documented. As someone who usually fights in the featherweight division (145lbs), Cyborg's forced shirking of the last few pounds has been criticized as unnecessary, distasteful and outright dangerous.
UFC commentator Joe Rogan agrees.
Taking to Twitter after the fights on Saturday night, Rogan made a public pitch to the UFC to allow Justino to appear and fight in her usual weight class.
.@ufc please open up a 145lbs division for @criscyborg. Her torturing herself to make 140 is insane and she's incredibly entertaining.

— Joe Rogan (@joerogan) September 25, 2016
Women's MMA is growing in leaps and bounds and it would be amazing if there were more weight classes.

— Joe Rogan (@joerogan) September 25, 2016
I think that if the @UFC opened up more WMMA divisions the level of talent in each division would grow like it has in new men's divisions.

— Joe Rogan (@joerogan) September 25, 2016
The level of talent in each division seems to rise to the standard of the champion. @criscyborg is a killer and would be a fierce champion.

— Joe Rogan (@joerogan) September 25, 2016
At present, calls for the UFC to do such a thing have fallen on deaf ears. Just last week, UFC President Dana White confirmed there were no plans to expand the women's roster in the near future.
The argument against a women's featherweight division is the current lack of high-level talent at 145-pounds. To make the division would be akin to creating a weight class solely to showcase Justino's talents. Something that couldn't possibly be right, right?
…Except the UFC have done it before.
When the UFC originally brought women (and created the bantamweight division) into the organization, it was done as a vehicle for a certain Ronda Rousey. As she flourished in the UFC, so too did the division. Cyborg's introduction could well bring about the same development.
In the meantime, however, Justino seems set to continue harming her own body in order to still be able to appear at the highest level of mixed martial arts.
"Every time that I made weight at this weight class at 140 pounds is very tough for me," said Cyborg post-fight Saturday. "I never pick my opponents. I always let them pick the opponents for me, so [I'll fight] anyone in the top ten at 135 that wants to fight at 140. I can't make 135.
"I know they won't want to make 145, so I'll do my sacrifice. I'll cry to make 140."
Comments
comments