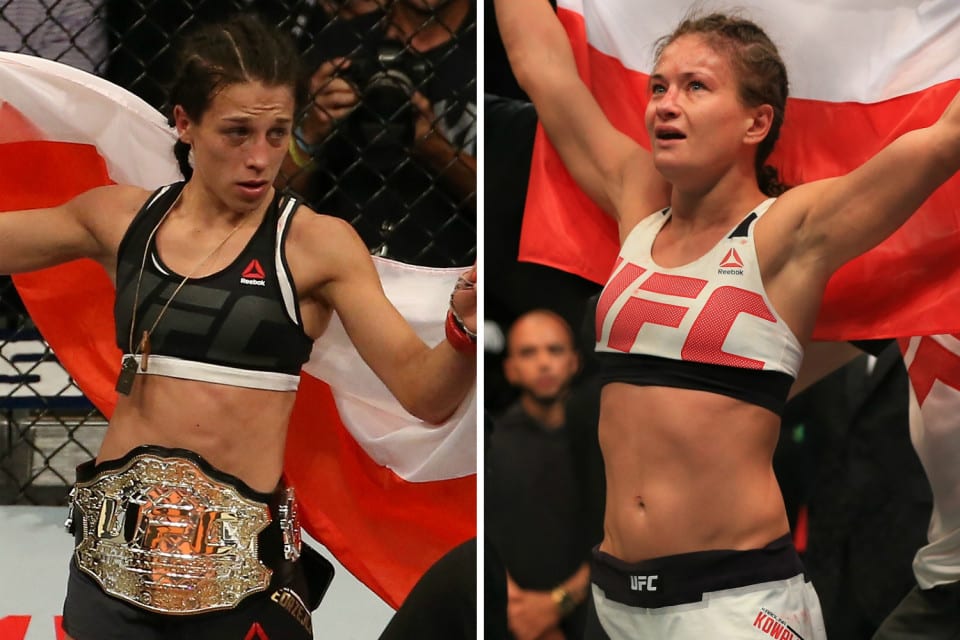 So stacked is the UFC 205 card with incredible fights that it becomes difficult to pay many of them the attention that they deserve, but before Conor McGregor attempts to make history against Eddie Alvarez in the evening's main event there is also the small matter of the biggest fight in the history of Polish mixed martial arts taking place just an hour or so prior.
When Joanna Jedrzejczyk and Karolina Kowalkiewicz clash in the first of three championship bouts for Jedrzejczyk's Women's Strawweight title on November 12th, it will be the rarest type of title fight — one where both fighters come into the the bout undefeated.
Speaking to Przegladsportowy, as reported by FloCombat, Jedrzejczyk admits that while there is mutual respect between the two Poles, pleasantries can be saved until after the fight. The two fighters met in a New York hotel while performing promotional duties for the UFC and, as Jedrzejczyk puts it, she wasn't going to give an inch to the challenger to her title.
"I met Karolina and her coach Lukasz Zaborowski", Jedrzejczyk explained. "We said 'hi', shook hands, had a small talk. Then we went eye to an eye during the press conference and after that, I think Karolina wanted to exchange some more words.
"After the fight, we can have a dinner together, have a beer or wine. Now, it is a time for a rivalry. Mental preparation is as important as the physical one. You mustn't show weaknesses, you have to stick to your rules."
Joanna Jedrzejczyk recently uprooted her training from her native Poland to the American Top Team facility in Coconut Creek, Florida. This was in part, she says, to help improve her grappling, but also to up the standard of her training to that of a world champion athlete.
"It didn't change that much, although training here is specifically set up for me," Jedrzejczyk exaplined. "In Olsztyn I did a lot of group classes, sometimes I needed someone to train with and the person didn't even arrive at the gym. These things don't happen at ATT, everything is perfectly organised.
"I feel that my success is more appreciated here, though I will never say a bad thing about what I had in Poland."
The reason for her switch to ATT will be clear once the final bell rings in her bout with Kowalkiewicz next month.
"I changed some details, refreshed some things and new tricks just happen naturally," Jedrzejczyk said. "I'm developing and I trust you will see that on November 12.
"Karolina is going to be prepared better than ever. I will have to deal with it. It is a huge test for me, and my coaches. I believe the result is going to be spectacular, very spectacular."
Comments
comments