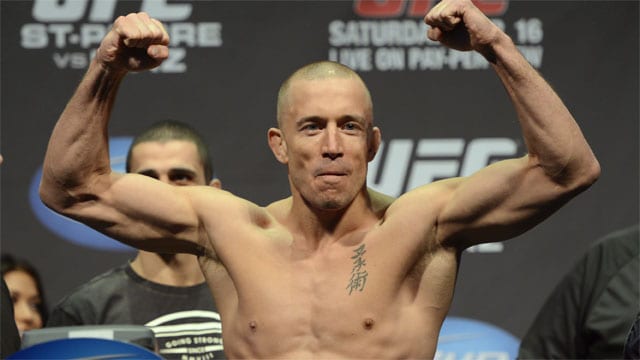 The hype train is starting to gather speed.
Georges St-Pierre has long been speculated to return from his self-imposed hiatus from MMA, which he started back in 2013, going as far as to say he'd like to return against new welterweight champion Tyron Woodley.
Today in an interview with Ram Gilboa and BloodyElbow.com, St-Pierre expanded on the status of his return, how he feels about the sports progress in his absence and who he'd like to face when he gets back in the Octagon.
"My agent is negotiating with the UFC, they had an offer, we made a counteroffer," St-Pierre said.
"Now we're talking again and I'm starting the USADA process to be tested, I'm starting it Aug 10. in Las Vegas. Because to be eligible to fight you need to be tested."
At present, USADA rules declare that fighters returning from retirement must undergo a mandatory 4 month period of testing. It's likely, however, that a star of St-Pierre's status could receive an exemption in the same vein as Brock Lesnar did for UFC 200 (regardless how that didn't work out so well). It's not something St-Pierre is interested in though.
"I don't want to be an exception," St-Pierre said. "Because I was very outspoken about Performance Enhancing Drugs. It would be bad for my reputation if I would have an exemption. I don't want to have a free pass, I want to be like everybody else. That's why I'll be starting the process Aug 10. I don't have any fight yet, but it's gonna happen now, because I'm getting tested, if I'm getting tested it's for a reason."
As for who he'd be interested in returning against, St-Pierre wasn't subtle.
"It seems to me to me like it's Nick Diaz that is running for another shot at me," said the former welterweight champion. "I wouldn't mind, I'm not afraid of Nick Diaz, I'll tell you. I am telling you right now: If it's what the fans want to see, I'm in.
"I don't care if it's the first, or second, or third. If they want me to fight Nick Diaz it would be my pleasure. I don't mind, I am not afraid of Nick Diaz, I beat him last time, and I'll beat even worse, I'll beat him way worse next time that I'll fight him.
"I beat him last time easily, but I was not happy. It's one of these fights that I'm not happy with. Because I didn't feel like I gave enough, for different reasons. It left me angry that fight, when I look back at it, maybe I won, but for some reason it left me angry and I feel like I could have done so much better."
Speaking of Diaz, St-Pierre also offered his prediction on the rematch between UFC Featherweight champion Conor McGregor and Nate Diaz.
"The way I see it is McGregor and Nate Diaz are both "bully" fighters, and the worst thing that can happen to a bully is when the tables get turned around and he gets bullied himself. That's what happened to Conor McGregor, that's why he lost that fight. Conor McGregor used to bully people and put people away in the first round because he's such an amazing fighter, and he gets into people's heads. But what happened was, he couldn't put Diaz away because Diaz is very resilient.
"If I make an analogy it's like Conor McGregor was pacing himself for a 400 meters race. He gave everything, but at the end of this 400 meters race, now somebody was telling him, 'I'm sorry, you're not done yet, you have another 400 meters to do'. And if you didn't pace yourself, if you go all out thinking you're going to arrive at the finish line at 400 meters, now you have another 400 meters. You're done."
"I believe skill wise McGregor is better than Diaz. But I just don't know if he has the same mental resilience of Nate Diaz. Nate Diaz is very experienced, that was a fight that was won because of his experience.
"I do not see this fight as a set of skills: 'oh, because of his ground game, because of this, because of that'. Conor McGregor is very good on the ground, he swept Nate Diaz in the first fight. I see it as more of a pace and tactical match.
"Because Conor McGregor is so confident: he goes there 'I'll beat this, I will do that'. If I would be his coach I will tell him all the time, behind closed doors, how dangerous Diaz is and how much of a war this fight will be and how painful, and long, and uncomfortable it would be, and to get prepared for the worst day of his life."
On the subject of a potential bout with the Irish superstar, St-Pierre was coy. Speculating on the walk around weight of McGregor, and suggested the two walked around at roughly the same weight.
"McGregor is pretty big, huh?" St-Pierre said. "I don't know how he cuts all that weight, it's unbelievable. He's about my size, he walks around I think between 180, 185, I walk around 186, 187, 188."
St-Pierre's opponent for his return is as of yet uncertain, but whoever he decides to face is likely to cause waves through the sport… especially if it happened to be against the Notorious one.
Comments
comments