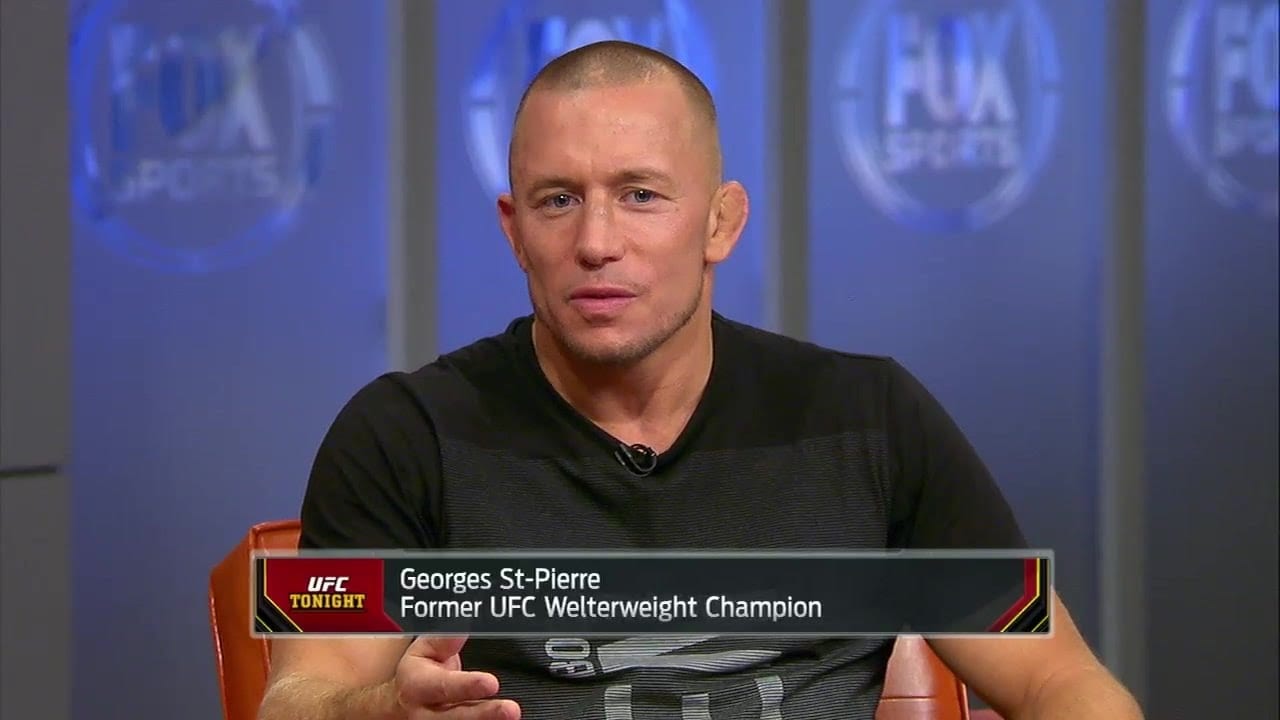 The return of Georges St-Pierre inches ever closer.
The welterweight legend appeared on 'UFC Tonight', Wednesday, where he claimed that his return was all but a certainty to take place this year, and that only thing that remained as an obstacle were negotiations with the UFC.
"I want to come back. They know the terms that I want, and trust me, I'm very reasonable. So it's up to them," St-Pierre said. "We tried. My agent tried to reach them and they're hard to reach, but I guess they're going to come back soon. Hopefully, we'll see."
So what exactly is up for discussion? What could be keeping one of the biggest draws in MMA history from immediately returning? Well, all signs point to the red triangle of Reebok.
The clothing company signed an exclusive apparel deal with the UFC last year, and has since had numerous public controversies, namely requiring all UFC athletes to forego any alternate or additional sponsor inside (and leading up to) the Octagon.
It's the loss of those other sponsors, and therefore the other sponsorship money, that's causing the hiccup in talks.
"If you see it from my perspective, I'm making a lot of money now even though I'm not fighting," St-Pierre said. "And my contract is old, my contract was made before the Reebok deal[…]basically, it's now because if I go back and fight I cannot advertise my sponsors, so I'm losing money if I go back to fight on the old terms of my contract. So, [my requests are] reasonable. I'm just waiting to so what's going to happen."
St-Pierre also took time to make note of UFC President Dana White's recent comments, in which not only did White state he would "believe it when he sees it" in regards to a potential GSP return, but also that the former welterweight champion didn't "have that drive and that desire he once had."
"He doesn't know anything about me," St-Pierre said. "I'm a smart guy. I'm not the kind of guy you're going to say that (about), and 'okay I'm going to sign right here, I'm going to fight for peanuts'. No, I'm a smart person. It doesn't work, these things on me. But I'm going to tell him something, to Dana, let me fight once and you'll see in the first minute of the fight that what you just said is wrong.
"Let me fight Tyron Woodley, then we'll see if I want to be world champion again. I understand what he means, and I'm not angry at Dana. He does what he does for the best of his interests. I do what I do for the best of my interests. One day when all of that is going to be over, we'll probably be friends, like most of the guys who I've fought. But now, it's like a game. He's doing his game, I'm doing mine."
As for where the return could take place, St-Pierre made his preferences clear. Being that he is currently undertaking a mandatory four month drug testing period under USADA rules, UFC 205 at Madison Square Garden is out of the question. St-Pierre's testing period doesn't end until December 10, when he would become eligible for in-ring return.
It just so happens that UFC 206 in Toronto at the Air Canada Centre takes place on the exact same date. And doesn't that just sound bang on the money?
"I don't think it's a coincidence that it's in Toronto," St-Pierre said. "Who would be a better man than myself to headline a card in Toronto? To fill up the Air Canada and get back the Canadian fans, raise the pay-per-view up because now Rory [MacDonald] is going to Bellator? I'm the man for the job."
And as for who?
"Tyron Woodley, I would fight Tyron Woodley," St-Pierre said. "And Nick Diaz, I would fight Nick Diaz. [Demian] Maia looked pretty good in his last fight. I think these guys can elevate me. They're not guys that I'm necessarily supposed to beat, so it's a big risk, but I'm willing to take the risk because these guys could elevate me."
Watch the entire segment with Georges St-Pierre on UFC Tonight below:
https://www.youtube.com/watch?v=kz3Fa_Hsp68
Comments
comments