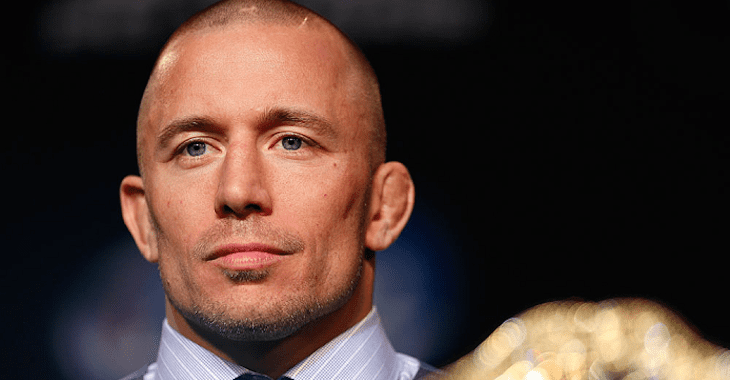 While Georges St-Pierre's declaration of free agency will disappoint expectant fans, the news — and information given with it — might make fighter ears perk up with excitement.
Since staring his self-imposed sabbatical from the sport, St-Pierre has become an increasingly further outspoken member of the MMA world about what he sees as an unfair landscape. One of the biggest advocates for increased steroid testing, St-Pierre has also been on record about fighter pay inequality, and his dislike of the UFC's share of the income.
Now with his announcement of free agency, St-Pierre has gone even further, calling on several of the sports bigger names to make a push for those on the lower rungs of the ladder to get a bigger share.
"I'm always on the fighters side, and will always support the fighter and will also support all serious initiative that can help fighters," St-Pierre said on The MMA Hour, Monday. "It's sad. If I look at myself I consider myself very lucky, very blessed, because I'm healthy and I'm wealthy and I have the power because of the position that I am. I have the option to say 'no'. A lot of these guys don't have this option.
"It's up to guys like me, Conor McGregor, Anderson Silva, Jose Aldo… guys that are big names to stand [up] for these guys who [don't] have these options. It's unfortunate, because what we do is not a game. It's very dangerous.
"Most of these guys will get out of this business broke mentally, physically and financially, unfortunately as the situation is right now. For me, I always support the fighters."
The Canadian, who had been in the UFC since 2004, actually felt he was close to signing a deal to return. In negotiations with the company since February of this year, St-Pierre said that at one point the entire affair was close to it's completion, until the incredible UFC sale in July. It was that sale, St-Pierre said, that effectively put an end to his return.
"I believe if Lorenzo [Fertitta] was still there, it would have been maybe different," St-Pierre said. "Because we were making a lot of progress towards the end when we were talking to Lorenzo, but when the new owners came all the offers were off the table so it was like a big step back. It was insulting."
The fact that the organisation refused to meet St-Pierre's previously agreed compromises also, he believes, speaks to the UFC's reluctance to make the best deal for all parties involved — instead choosing their interests over that of the fighters, or the fans.
"I can only speak for myself," St-Pierre said. "For my situation, I really felt like they missed the boat. I really feel it could have been a win-win situation. If it's only a win on one side, it's not good. you want to make both sides happy. When you have a company, and the employees are happy, everybody is happy; the fans are happy. You don't want only the owners to be happy, I think its important that both sides are happy."
St-Pierre's thoughts seem to echo the recent wave of disillusioned fighters who are claiming to want out. Recently, Jose Aldo, Khabib Nurmagomedov, Julianna Peña and Anderson Silva have all voiced their disappointment with UFC brass, and said that they wanted out of their own contracts should things not improve.
For St-Pierre, it's not a bad move, stating that sometimes you need to prioritise your beliefs over your career.
"When you go into a negotiation, you need to be prepared to walk away," said the welterweight legend. "And I would never be afraid to stand for what I believe is right. That's all I can say."
Comments
comments