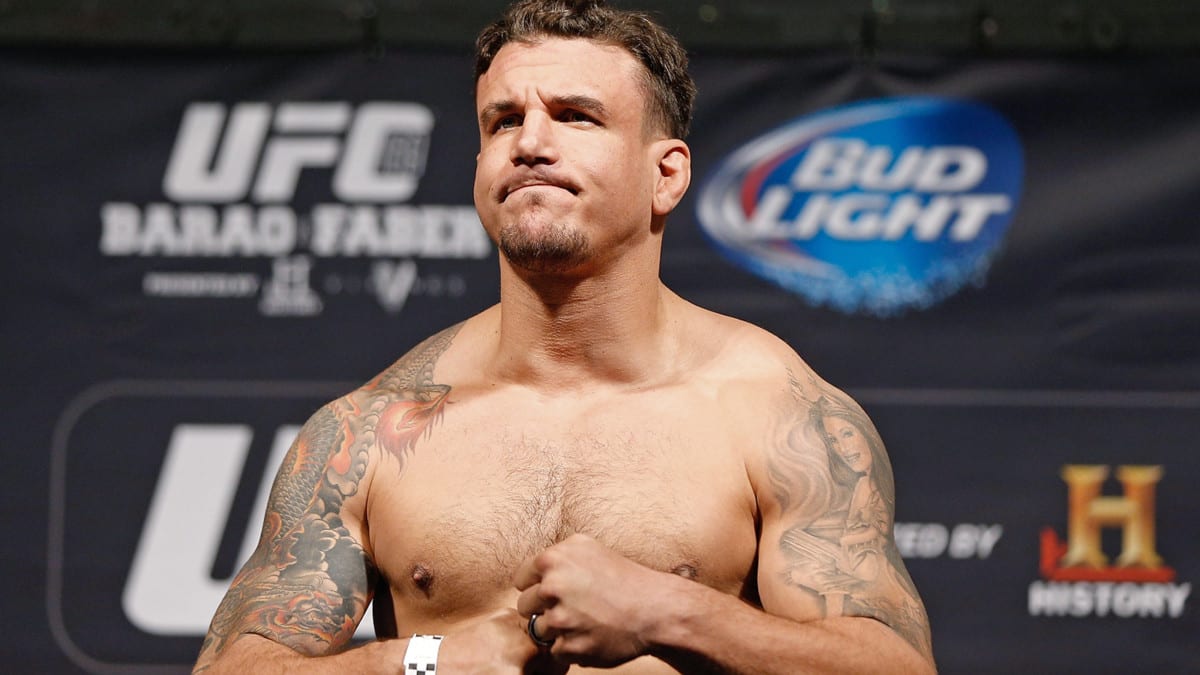 Frank Mir isn't getting any younger.
Currently serving a suspension for oral turinabol metabolites found in a drugs test he submitted before his fight against Mark Hunt back in March, Mir knows that at 37, a two year suspension doesn't bode well for his career.
Because of that, and because of the fact that his current bosses at the UFC don't seem ready to use him in other areas of the industry, Mir wants out of his UFC contract in order to be able to fight elsewhere.
"I am [under contract with the UFC], but I am trying to get out of it," Mir said, speaking with Russian media outlet, cageside. "They are not going to utilize me as a fighter and I am not getting any younger. And even if they do not let me go after my suspension, I'm up and I am able to fight again. I really would like to step outside. UFC is not going to be able to get into Russia. Here you already have phenomenal leagues. Obviously, UFC is a very big thing in the US, Canada, Brazil. But I like coming over here, I like the culture, the people. Fighting [in Russia] and in Japan are two dreams of mine to be able to accomplish."
It's not only the prospect of being able to fight across the globe that interests Mir. The UFC are notoriously finicky about letting their athletes compete or make appearances in any form other than for the UFC themselves. To be able to get away from those rules and being given the opportunity to take part in other sports is something that Mir would love an opportunity to do.
"Fighting in different types of fights [is another reason to leave]," Mir said. "As right now UFC only allows me to fight MMA. I am gonna have to retire, eventually time's gonna catch up to all of us and I am no difference. I have never got to do kickboxing matches. I have only fought an amateur boxing match. I want to do a professional boxing match. You know, I always wanted to test myself and find out different things. And UFC wants to protect me like any other fighter under the contract.
"They have already made a lot of money, they are very famous, very important and I am very grateful for what they helped me accomplish. But right now I am being limited in what I am gonna be able to do before I enter into full coaching. I want more experience in different aspects of the sport. My goal is to do at least five K-1 rule kickboxing matches, five professional boxing matches before I retire."
While Mir remains suspended by USADA, he has consistently maintained his innocence, claiming he must have ingested the banned substances unknowingly — a common thread in the USADA era. With several high profile fighters now having proved they had contaminated supplements as the reason behind failed tests, Mir thinks it's time for USADA to go back to the drawing board as far as how they conduct their work.
"I agree that drug-testing is important as far as the safety of the fighter," Mir said. "But now Tim Means, Yoel Romero, Jon Jones are coming up with weird metabolisers, and then we find out months later [the tests were all] false positive. So it seems like "wait a minute, that guy lost money, you took him off the card". Jon Jones will never get UFC 200 back. And now they're finding out that it's some other supplement that he took that caused this.
"I think we need to find out who really used cheating and stop that. I don't want to incriminate 10 innocent guys just to catch a guilty guy. It is a kind of a difference of an American justice system. We are supposed to be afraid and let nine guilty men go and fear of imprisoning the one innocent man. So that's why we have a court of appeals and so many different higher justice systems we can go through. We want to make sure that those who are guilty they truly are guilty.
"And now there really is no known fact in that."
Comments
comments