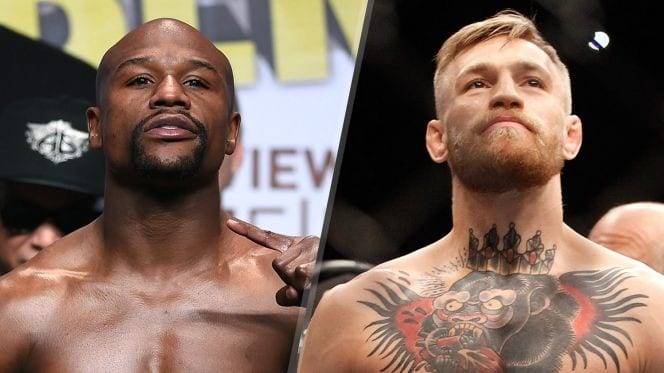 And so it continues.
Despite plenty of skepticism, a potential mega-fight between Conor McGregor and Floyd Mayweather seems to re-emerge it's head every time a McGregor fight takes place.
This time though, the consistent comparisons seem to have finally irked the boxing legend.
When Floyd was asked about McGregor's performance, he denied even watching it. Then, when he was asked his thoughts on McGregor, whom the reporter dubbed 'the MMA equivalent of Mayweather', the boxer reacted angrily.
"I didn't know Conor McGregor was undefeated," Mayweather said. "I didn't know he had reigned for 20 years in MMA undefeated, and was world champion in five different weight classes. That's something I didn't know. So I guess you guys telling me something new, if you're saying he's the Floyd Mayweather of the MMA.
"Never compare him to me, it's a total disrespect. I'm a elephant, I don't beef with ants."
While Mayweather had plenty of words for McGregor, the Irishman had no more than a few in response. When McGregor was told and asked about Mayweather's comments, he chose to keep it simple.
"Do you believe him? Tell him to say it to my face," McGregor said.
The two have an increasing history of back and forth, with Mayweather announcing he was set to face the Irishman earlier this year.
While McGregor made it clear he was not only open to the idea of a boxing bout, but actively interested, it has yet to come to fruition. There had been reports that Mayweather would actually be ringside at UFC 205, but the boxer clearly decided against appearing.
While many remain dubious on the possibility of the cross-sport bout, UFC President Dana White added an interesting layer to the entire affair just one day prior to UFC 205 — after an interesting meeting with rapper and Mayweather friend 50 Cent.
"50 cent is in the other room," White said, speaking with Jim Rome. "He and I start talking last night, and he's like, 'What's up with your boy? Is he going to fight Floyd?' I'm like my boy, who Conor? And he's like yeah. I'm like Floyd's never going to take that. He's like 'Dana, Floyd wants that fight. Floyd will take that fight.' I said 'I'll tell you what, you tell Floyd to call me, and if he's serious about this, give me a call.'
"So he walked out and got on the phone and called Floyd, and he got on the phone with him when he was leaving, so I haven't heard anything from either one of them today, but you know I don't know how that negotiation goes.
"But I've been saying it all along, look at how long it took for Pacquiao-Mayweather to happen. You know what I mean? And they're in the same sport."
White is likely correct with thinking the entire process of putting the fight together would be a prolonged process. The biggest (and most obvious) hurdle seems to be the nature of the rules.
"It would be completely unfair to do grappling or go to the ground or do any of that stuff," White said. "It makes no sense for Floyd. Plus, we could start at kicks, punches and elbows. We can't do straight boxing or we can't do straight MMA. Or Joe Rogan said let [Floyd] box [Conor] and [then] fight him in MMA.
"This question use to drive me crazy. I would hate when people would ask me about Floyd and Conor, and then last night that happened. I don't know. So we will see, I don't know."
Comments
comments