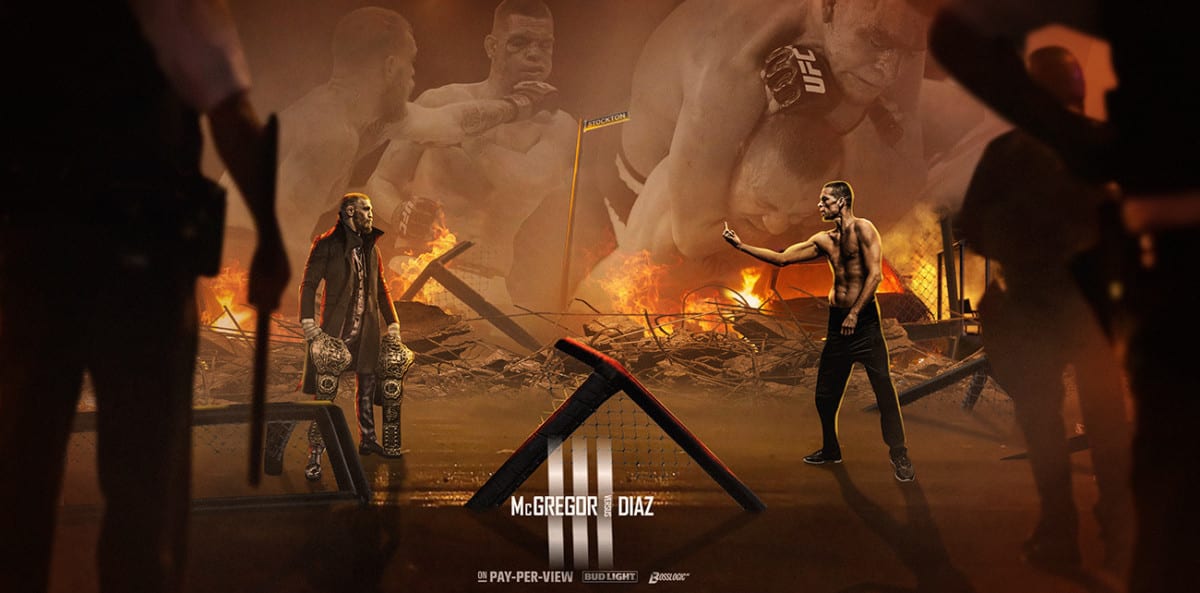 With McGregor now a double champion in two weight divisions, the speculation on his next bout has already begun. A man who often proclaims himself as owning options, McGregor's schedule is more than ready to be filled with plenty of opponents who would make sense.
In anticipation of the 'notorious' one's next bout, Australian artist/designer BossLogic has started a series of posters of the various possible bouts McGregor could find himself in. They're incredible, and you should check them out below:
Come as a champion, leave as a king! Congrats to @TheNotoriousMMA #UFC205 #UFCNYC #2belts pic.twitter.com/oJLfH1DUWx

— BossLogic (@Bosslogic) November 13, 2016
Will be making a series of posters of the likely future match ups for McGregor – Here is the first – @TheNotoriousMMA X @NateDiaz209 3 @ufc pic.twitter.com/ckAJNckyIJ

— BossLogic (@Bosslogic) November 14, 2016
Potential Future Fight 2 Poster – @TheNotoriousMMA X @TeamKhabib #UFC pic.twitter.com/8DrkjnKV4v

— BossLogic (@Bosslogic) November 15, 2016
If you're hoping the UFC book Conor McGregor vs. Jose Aldo for the 145lbs title unification fight then this poster by @Bosslogic is for you. pic.twitter.com/7YH4eYu3XL

— Chamatkar Sandhu (@SandhuMMA) November 16, 2016
(And an older one that seems somewhat topical again):
When two worlds collide…Mystic Mac vs Money Mayweather $$$$$$$$$ #moneymatch – @TheNotoriousMMA @FloydMayweather pic.twitter.com/gFro9FrFHI

— BossLogic (@Bosslogic) May 8, 2016
Check out more of the man's talent here, with a gallery of his UFC based artwork.
Comments
comments