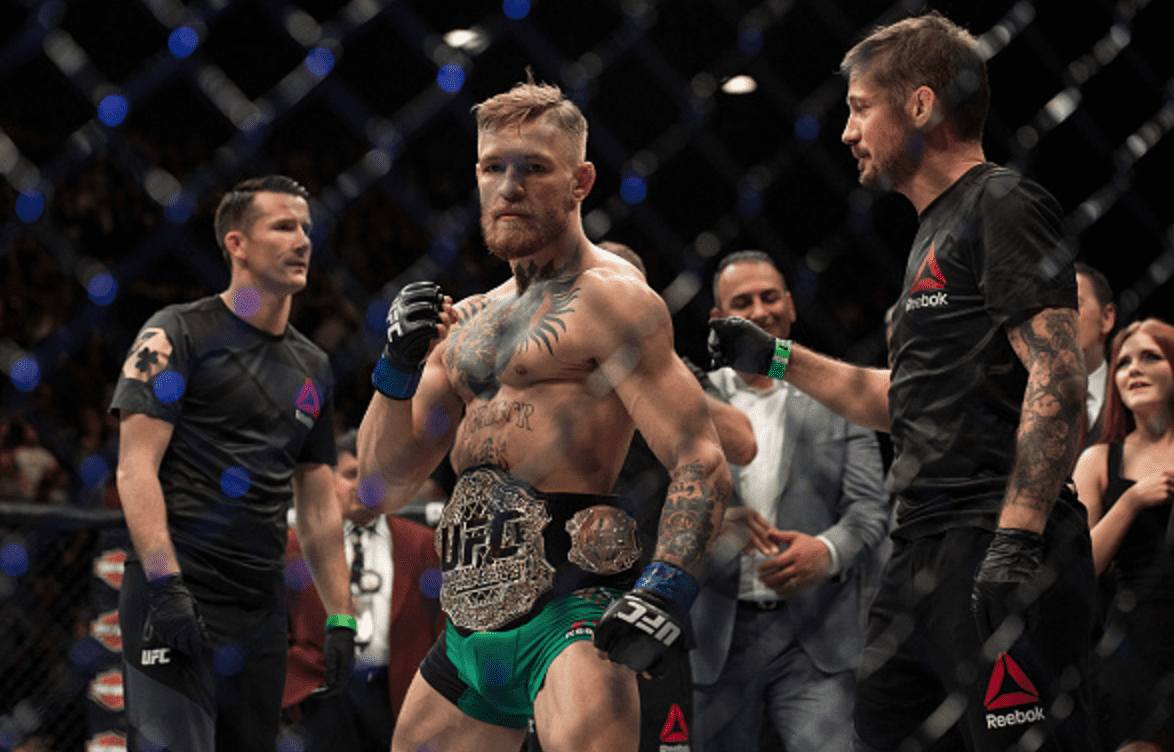 When Conor McGregor takes to the cage to challenge Eddie Alvarez for the UFC lightweight title next weekend in New York it will be the third different weight class that the Irishman has competed at in the UFC over the course of the last 12 months.
The last time McGregor competed at lightweight was on December 31, 2012 when his left hand rendered Ivan Buchinger unconscious. In doing so, McGregor won the Cage Warriors lightweight strap to add to the featherweight belt he won months prior in the same organisation – an achievement McGregor intends to repeat at UFC 205.
CHECK OUT – The Mac Life T-Shirts – HERE
But in which of these weight classes is he best suited? According to head coach John Kavanagh and striking guru Owen Roddy who spoke to TheMacLife.com in an exclusive interview, 155 pounds is where we will see the best Conor McGregor.
"At 70 kilos (155 pounds) he is at the best weight that suits his body", Roddy explains. "For me just working on the pads with him, he just seems a lot sharper, a lot faster. I don't feel like he's lost any power and he's gained a bit of speed. This is the weight he should fight at and should have always fought at. I think we're going to see the best Conor."
McGregor previously stated to TheMacLife.com that his training camp for UFC 205 was the most scientific of any he has done in his career and it's this structure that head coach John Kavanagh thinks has produced the best-prepared Conor McGregor that anyone will have seen yet in the UFC.
"Routine, routine, routine. This was always my way", says Kavanagh. "Conor is more flowy and artistic and does things as he feels is the right time to do them but he has seen the benefit of it as well. For the last few months now, I could tell you six weeks in advance what today's session was going to be. It's paid dividends. It did in the last fight and we've continued it on to this one."
Watch the full interview above.
Keep an eye on TheMacLife.com for exclusive content in the lead-in to UFC 205.
Watch More
Join the trading world – powered by 24Option (trade carefully your capital is at risk), click here for more information.
Comments
comments