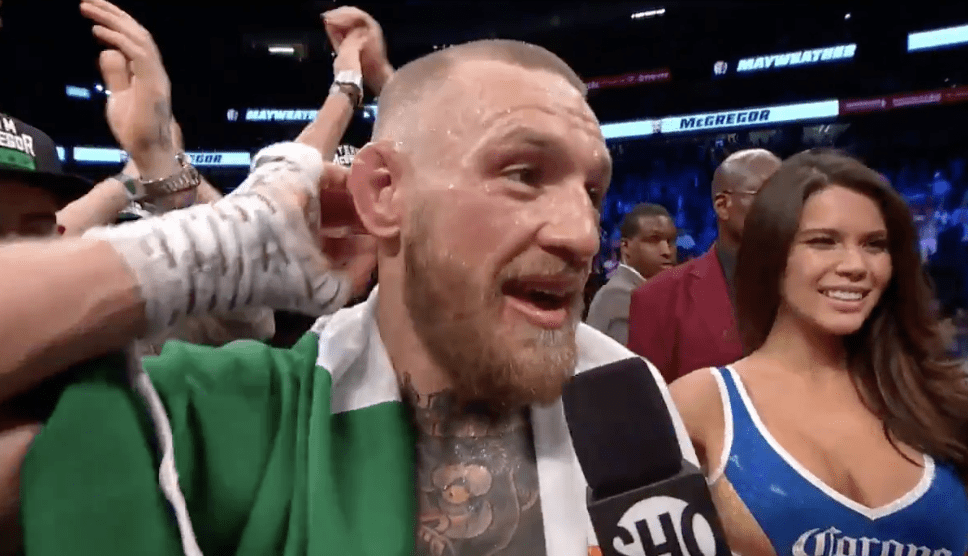 Nothing ventured, nothing gained.
In Las Vegas, Nevada, Conor McGregor entered the world of boxing against arguably the best defensive boxer of all time, Floyd Mayweather. Before the fight, it was claimed McGregor would be unable to land a punch on his opponent, something proven to be put to bed early on.
In fact, for the first part of the fight, McGregor proved to be every bit the contender he promised he would be, catching Mayweather with a few punches that appeared to have the boxer concerned.
In the end, however, Floyd persevered the early pressure, coming back strong to win the latter half of the fight, before landing a decent series of right hands to put McGregor on the ropes and cause the referee Robert Byrd to step in and call the fight.
Once again, McGregor was the ultimate professional in defeat.
"I turned him into a Mexican tonight, he fought like a Mexican," McGregor said, after the bout. I thought I took the early rounds pretty early, he changed his style and fair play to him. He's composed. He's not that fast, not that strong, but boy is he composed. Fuck it, I had fun on this side.
#ConorMcGregor all smiles at the end of the fight and proud #MayweatherMcGregorpic.twitter.com/pmunOdGRQ2

— Mike Dyce (@mikedyce) August 27, 2017
"I've been here before, I've been strangled on live TV and came back. Fuck it, it was some buzz. I thought it was close, don't get me wrong."
One factor McGregor would have like to seen change is the nature of the finish. While McGregor was against the ropes, he didn't go down to the floor nor was he given a count of any kind. Indeed, McGregor pointed to the nature of his second fight against Nate Diaz that he tends to wobble slightly when fatigued.
Because of that, McGregor wouldn't have minded to have the contest continue for a moment longer.
"I thought it was close though and I thought it was a bit of an early stoppage. I was just a little fatigued … Let me go down, let the man put me down."
And if anyone thought McGregor had any intentions of disappearing or shying away from the spotlight, fans have another thing coming.
"I'm having a buzz floating around," he said. "Anyone wants a knock, give me a call."
Comments
comments