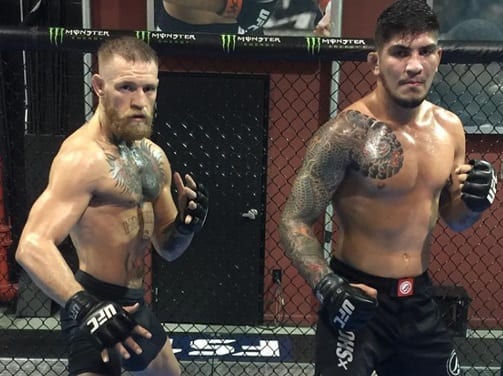 Just days removed from winning double gold at the IBJJF No-Gi Pans in New York last weekend, BJJ world champion Dillon Danis appears to have set his sights on the next stage of his career.
Danis was one of a few training partners brought in by Conor McGregor ahead of August's rematch with Nate Diaz, with the New Jersey native's style of aggressive attack-oriented jiu-jitsu seen as an effective reference point for McGregor while preparing for Diaz.
Diaz, though, was none too happy with his compatriot and refused a handshake inside the octagon immediately after the UFC 202 main event and later wondered aloud to the media about why Danis – an American – was helping to prepare a foreign fighter to face him and said that the Marcelo Garcia black belt is now on his "hit list".
Danis responded to Diaz's comments on an episode of the MMA Hour with Ariel Helwani.
"I don't know what that mean, I'm on his list", Danis said. "But if he wants to do MMA, I'll fight him in MMA if he wants. He can do a CM Punk with me and bring me into the UFC. He can be my first fight. I'll fight him in a couple of months, whatever he wants to do."
Danis won the top prize in both the medium heavyweight and absolute divisions in last weekend's IBBJF No-Gi Pans (winning every match but one by submission) and with that accomplishment now under his belt he seems to be more determined than ever to pursue a career in mixed martial arts – and judging by this Instagram post, he knows where he wants his journey to end up.
And maybe, just maybe, Nate Diaz might be a stop along the way.
"Any kind of combat he wants to do, I'm ready to step in there with him. Whatever he wants. No problem. MMA? It doesn't matter to me. I'll fight him in MMA tomorrow."
Comments
comments