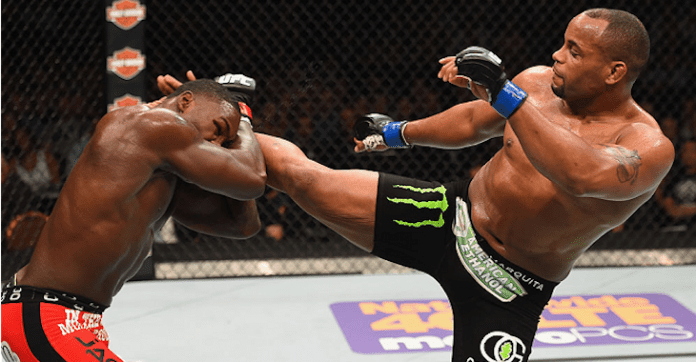 Not many people want to stand in front of Anthony Johnson and exchange blows.
One person you can put on that short, short list is light heavyweight champion Daniel Cormier. On Tuesday, the two did the PR rounds in Canada ahead of their UFC 206 main event bout, a rematch of their UFC 187 bout.
While most would point to Johnson's advantage as being on the feet, Cormier — one of the few fighters to survive a Rumble overhand right hand — isn't as intimidated as you'd think.
"Everybody's talking to me about the stand up with Rumble, and I'm like 'I'll stand with Rumble, I don't care'," Cormier said on Canadian outlet TSN. "Jimi Manuwa did it. Jimi was whipping this dude. Jimi was the one winning the stand up, and Anthony had to start wrestling, Anthony was the one that took him down, Anthony was the one that initiated the clinches against Jimi. He almost knocked Jimi early, but when Jimi got his wits about him and really started getting with him, then Anthony was the one who turned into the wrestler.
"If that was just a stand up fight, I thought Jimi Manuwa was doing fine."
Obviously, Rumble disagrees.
"[Cormier has everything wrong]," Johnson responded. "He ain't had no sleep all night, so he needs 12 hours of sleep to get his thoughts right. Jimi would have been fried rice, Jimi would have been a burnt cookie, Jimi would have been everything. I would have treated him like DC treats Popeyes."
Despite using Manuwa as a measuring stick, the two also have their previous fight to refer to. Something that both are taking into account.
"I learned that Anthony is much faster than I thought he was initially," Cormier said of their last bout. "I thought he had a lot of punching power, obviously I was right about that because he's knocked everybody out, but he's a lot faster than I thought."
"He's a grinder. I've seen him fight before, but I don't think he ever really had to push himself except for the Jon Jones fight," Johnson said of Cormier. "Of course he's fought heavier guys and he did what he had to do, but that was because of his speed. He was so much faster than those guys.
"Everything Daniel did, it didn't surprise me, but he definitely wrestled the hell out of me, so that stood out."
Despite the compliments, respect and generally friendly nature the duo share, the two pointedly noted that all that becomes irrelevant come December.
"When that Octagon door closes, I'm gonna go after Anthony," Cormier said. "All the smiling, all the friendliness, that's fine but…"
UFC 206 takes place on Dec. 10 at the Air Canada Center in Toronto, Canada.
Comments
comments