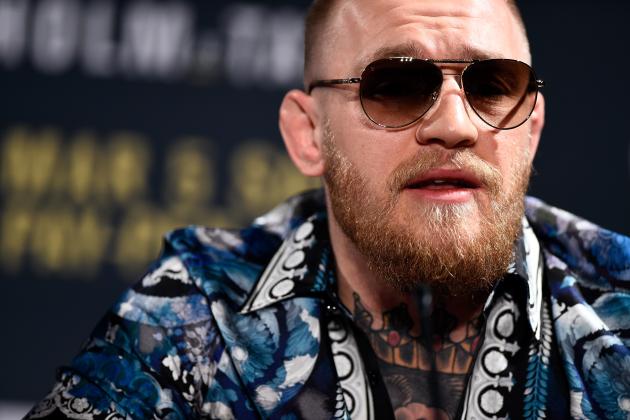 The Nevada State Athletic Commission's decision to fine Conor McGregor $150,000 looks like it carries with it some unexpected consequences.
When the NSAC made the decision on Monday to fine McGregor such a high amount (5% of his total purse) for the infamous bottle throwing incident pre-UFC 202, it was met largely with surprise and criticism.
Today, UFC President Dana White, who labelled the decision "ridiculous" and "insanity" appeared on Colin Cowherd's The Herd, revealed that the commission's decision may have some unexpected side effects.
"Conor McGregor hit me [up] yesterday and said 'I don't ever want to fight in Nevada again. Ever.'" White said. "Now how does that make sense for the state of Nevada? That you're going to try to fine this kid and Nate that much money, it just makes people not want to come fight in our state and that's not a good thing.
"And guess what? Conor McGregor doesn't need Nevada," White said. "He can fight anywhere. He can fight in Iowa. We can put his fight on an island off the coast of anywhere."
Since UFC 194 in December of 2015, McGregor has brought in an estimated total of nearly $26 million in Vegas gate sales, and owns four of the top five MMA gates in Nevada.
"This makes no sense for the state. It's just terrible," White said.
Because of his fine by the NSAC, Dana White says Conor McGregor (@TheNotoriousMMA) doesn't want to fight in Nevada again. pic.twitter.com/OIqWYtC0US

— Herd w/Colin Cowherd (@TheHerd) October 12, 2016
With ticket prices to his fights increasing each time around to match his star power, it's likely that should the Irishman stick to his decision, the NSAC has cost the state a multitude of millions in the future.
As of yet the other party involved in the incident, Nate Diaz, is yet to appear in front of the commission.
While it may have seemed implausible for the UFC's biggest draw to no longer fight in the organisation's 'home' state previously, the legalisation of MMA in New York has opened up a brand new market — And it's one that fits McGregor perfectly.
Closer to his native Ireland and home a greater Irish population than Vegas, New York could easily play host to McGregor's next appearances. His headlining UFC 205 looks to be a ticket sale sensation, with floor seats for the event fetching tens of thousands of dollars.
McGregor himself has remained publicly reserved on the commission's decision.
Comments
comments