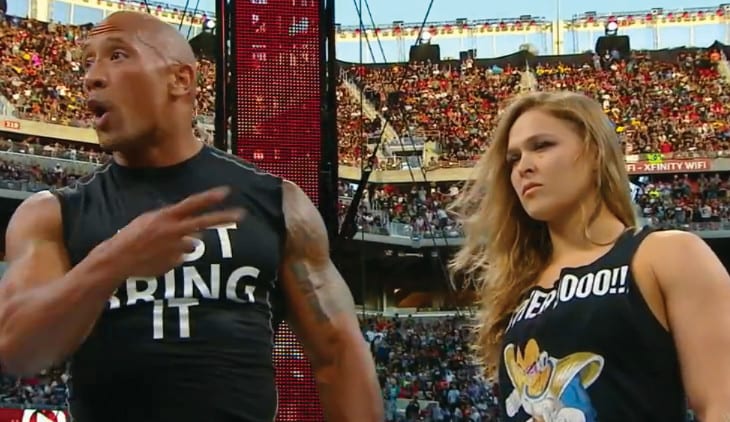 Ronda Rousey is going to have a lot of suitors when she decides to permanently step away from the cage.
The former women's bantamweight champion of the UFC will attempt to get her hands on the title she lost a year ago to Holly Holm when she challenges Amanda Nunes for the strap in the main event of the UFC 207 on December 30th but as she indicated in an interview with Ellen DeGeneres earlier this week, her days inside the cage are numbered.
But what is next for her? Rousey has already broached the world of movies, making appearances in the Entourage movie, The Expendables 3 and Furious 7 among others, but outside of the silver screen Rousey's services seem to be very much in demand in the squared circle.
Stephanie McMahon, Chief Brand Officer for the WWE, hasn't wasted any time in letting it be known that the professional wrestling organisation would be very interested in working with the former UFC champion once more. Rousey previously made an appearance for the WWE at Wrestlemania 31 last year in which she participated in a segment with McMahon which culminated, as you might expect, in an armbar.
McMahon wants to do it all again. Asked by TMZ about Rousey's impending departure from the UFC, Stephanie suggested that she would do everything in her power to acquire her signature.
"God, I certainly hope so. I gotta get her back from when she put me in that armbar", McMahon said when asked if the WWE would agree a deal with her.
"I'm certainly going to try (to sign her), I'll just leave it at that."
The WWE have entered into negotiations with the UFC several times in recent years. While Rousey wouldn't need the UFC's blessing to appear on WWE programming in the event of her legitimate retirement from mixed martial arts, they have dealt with UFC brass on several occasions recently – most notably the deal which allowed Brock Lesnar to compete at UFC 200.
It would be a big coup for the WWE to agree a deal with Rousey, whose name still commands a great deal of respect in the fight world. Not only that, Rousey was a big professional wrestling fan growing up and could conceivably be tempted to make the transition to sports entertainment – if the price is right.
Comments
comments