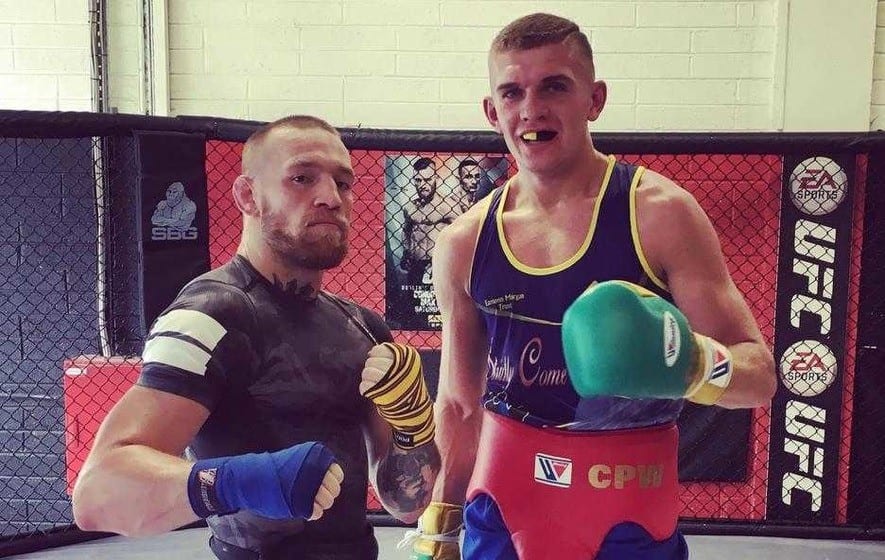 When the news broke that Conor McGregor had himself licensed as a boxer in the State of California, it's fair to say the reports were met with a fair amount of skepticism from some areas of the MMA community.
One person who wasn't skeptical about the idea of a McGregor boxing appearance, however, was a Mr. Conor Wallace.
Wallace is an Irish amateur boxer who, due to his long southpaw frame, McGregor brought in as a sparring partner ahead of the now infamous UFC 202 rematch with Nate Diaz. The two sparred hundreds of rounds against one and other in the lead up to the August showdown.
Because of that, Wallace has an interesting perspective on the idea of McGregor trading in his MMA gloves for that of the larger boxing variety. And according to him, it's not at all an impossibility.
"You could tell he watches professional boxing very closely and he was always showing you stuff on his phone," Wallace said, speaking to MMAjunkie. "I really can't see why not, because it's not just a thing that happened over night.
"With him having the amateur background from when he was younger, when he boxed in the Crumlin Boxing Club, which is a gym that has a lot of professionals in it, he must have just kept that hunger for it. Plus, he could make millions from it, and money talks. It would be really interesting and great to see. Whether it happens or not is another thing. Personally, I'd love to see it."
While the move has meant McGregor — one of the best strikers in mixed martial arts — and his boxing ability have come into question. Something, Wallace thinks, is unnecessary skepticism.
"He's not starting from scratch because of his amateur background and it would be just a case of doing it all the time and just doing rounds upon rounds of pure boxing," Wallace said. "A lot of people have criticised him, but he's just been doing boxing around twice a week, because he's got to think about the jiu-jitsu and the wrestling.
"If he's doing rounds five days a week, the only thing he can do is get better. A lot people have been very quick to run him down, but once he puts his mind to something he does it, and he does get the results. I would love to see him do it."
There are, of course, big differences in the two sports and the striking involved, but while any transition would require a period of adjustment, Wallace believes the needed alterations could be made — particularly considering McGregor's track record at learning rapidly.
"A lot more volume and punches," he said of the differences in the sports striking. "The feet are a massive thing, as well, to get in and out of range and to keep yourself balanced. With boxing, you're throwing a lot more shots and sitting down on punches.
"You slow it down a bit more and it's a little bit flat-footed because that five minutes [in MMA rounds] is long, so it's a different type of fitness. [Conor's] tricky, hard to hit, and a good mover, but it would be about learning to slip more punches. Also, with the bigger glove, it gives you a bigger target.
"If he got a good camp behind him, concentrated solely on boxing five or six times a week, who knows where he could go to. With him it would only take a couple of fights because it would be a money stunt and then he could get out of there. He's already proved a lot of people wrong in a lot of different things."
Comments
comments