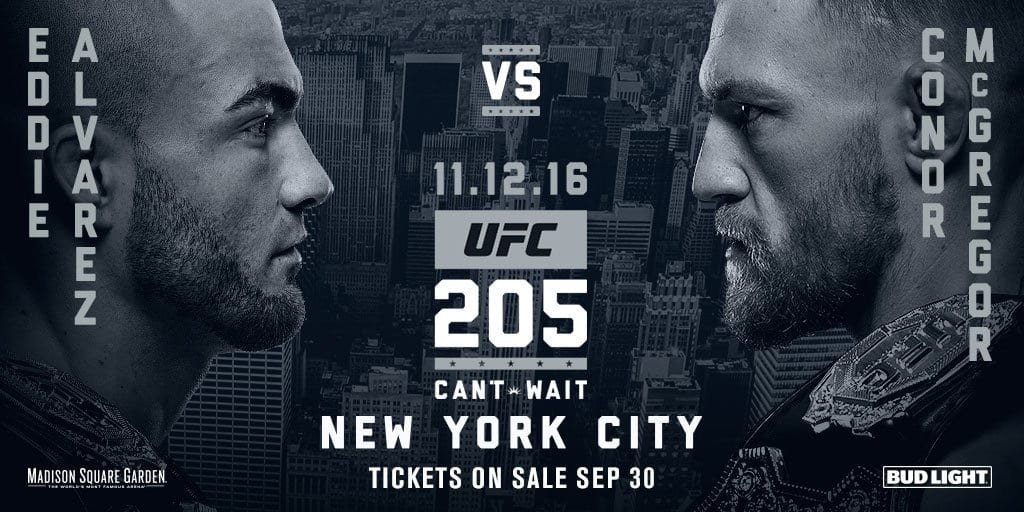 It's official. Conor McGregor will be facing Eddie Alvarez for the UFC lightweight championship in the main event of UFC 205.
Dana White confirmed the news late last night on ESPN's SportsCenter.
McGregor, the current UFC featherweight champion, was expected to give up his belt but instead will remain the champion through UFC 205. He is now set to become the only UFC fighter to have ever had the opportunity at holding two UFC titles simultaneously.
It's not the first time the Irishman has set his sights on the lightweight title.
He was originally scheduled to face Rafael Dos Anjos for the belt back at UFC 194, before the Brazilian withdrew with a foot injury. Instead, McGregor went on to face Nate Diaz in what became a legendary rivalry, while Dos Anjos ended up losing the title to Eddie Alvarez.
The confirmation of McGregor being at UFC 205 will be good news for Irish fans, with travel time from Dublin to New York virtually half that of the usual journey to Vegas, the location of McGregor's four most recent bouts.
UFC 205 is the latest in a string of mega-events for the organisation, and will take place at Madison Square Garden arena on Nov. 12.
It is the company's first event ever held in the state of New York, after the sport of mixed martial arts was finally made legal there earlier this year. With McGregor's involvement, it is likely to be one of the most successful cards in UFC history.
Stay tuned to TheMacLife.com in the lead up to UFC 205 for exclusive content.
Comments
comments