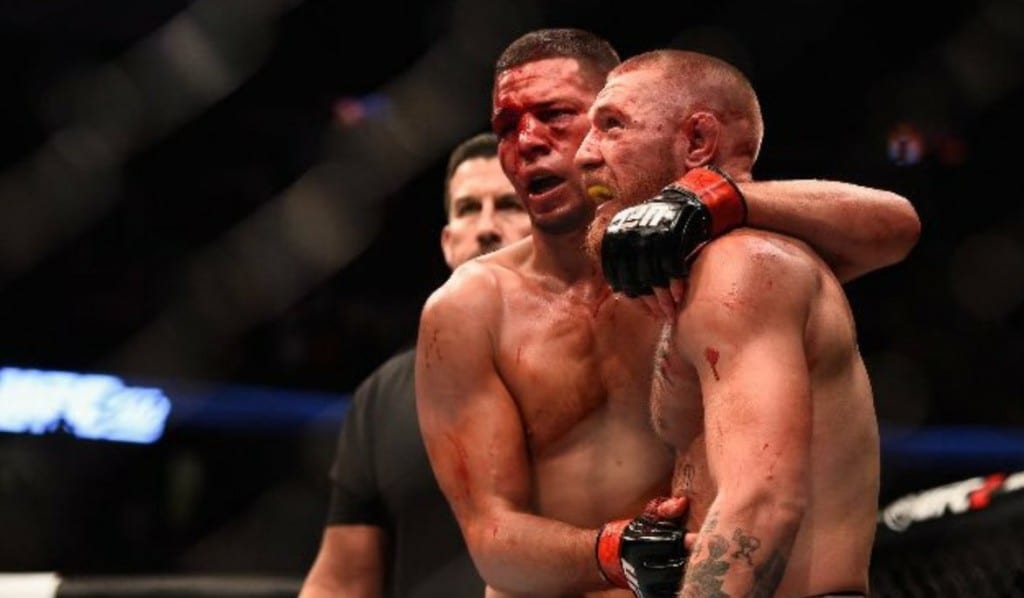 Conor McGregor and Nate Diaz is a recipe for money.
The fights between the pair at UFC 196 and UFC 202 are two of the most successful events in MMA history, and at one win apiece, it seems like a third meeting is a forgone conclusion. But rather surprisingly, UFC President Dana White has gone on record recently and stated he didn't necessarily want to see the two trade blows again — citing the weight disparity as too much.
Now, McGregor himself has commented on the possibility of a third fight, while he's open to the idea, he thinks it might be better for the Stockton native to slip away into retirement.
"I think potentially [there could be a trilogy bout]," McGregor said in a recent live video chat. "The more I think about it, Nate is going to be… There was a lot of damage done to Nathan in that last fight. You know, looking at his facial features, they're not the same. I know those close to him will understand what I am talking about.
"There could be a potential fight, maybe down the line for the lightweight belt after I win this, but to see him have to make the weight… And then to see the damage that he took in the last fight and then come in at a much lower weight. It wouldn't end good for him. So I'd imagine and I'd probably hope that his people close to him would stop him from doing it. It's done now. Cash your money and bounce."
Comments
comments