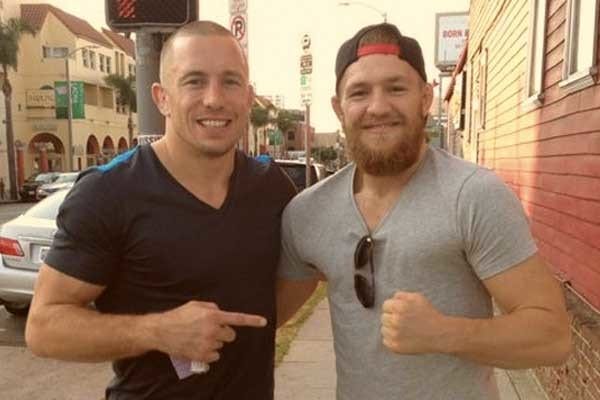 When the fighter association "MMAAA" was started by a press call involving Tim Kennedy, Georges St-Pierre, Bjorn Rebney (and others), not many were sure on how things were going to proceed.
The group stated they were in the business of helping fighters, and making the current disparity between promoter pay and fighter pay smaller. To succeed, they said, they would need other fighters to take the step and come aboard. Particularly the fighters with the biggest names — such as Conor McGregor
"Even though Conor is the most well [paid] athlete, he doesn't have his fair share of what he should have," St-Pierre said at the time. "And I'm saying this from the top contestant to Conor McGregor, they don't have their fair share.
"There's something I think about Conor McGregor; I've met Conor a couple of times. You have the Conor McGregor that's a human being and the Conor McGregor of business. The one you see in the UFC is the Conor McGregor that's business.
"But the Conor McGregor that's a human being, I know for sure he knows what's right. Nobody is a perfect human being, but Conor is not a coward. He knows what's right, and everybody knows what we're doing is right. So, of course, we would like to have the biggest name in the sport on board, and we need it."
Well, it may have taken a while, but it looks like the MMAAA have their response.
Speaking last Saturday at an hour long "an event with" event, McGregor revealed not only his surprise at the formation of the group, but also St-Pierres' mentioning him by name.
"I'm watching this union thing, it like a press conference, and I'm like, what the fuck is going on here?" McGregor said. "They're standing up, they're all wearing the same t-shirt. They're saying, 'Conor, please. Conor, please, you know what's right. Help us out, Conor.' And Georges is saying, 'Conor's a good person. I know he gets paid well, but he doesn't get paid enough.' And I'm like — what the fuck are you talking about?
"The only reason you (St-Pierre) are standing in the middle of that union is because you couldn't get the deal you want. You're the fakest of everyone up there."
And, while McGregor acknowledges that a form of unionisation wouldn't be a bad thing for athletes in mixed martial arts, he disregarded the MM
"There needs to be something, but that wasn't it. That was a bunch of… I don't know what that was. That was like a failed promoter, your man what's-his-name [Bjorn Rebney] — that was like a failed promoter, Georges was up there angry because he couldn't get the deal that he wanted. It was just the weirdest thing I've ever seen in my life.
"I just thought it was the biggest, fakest load of shit I've ever seen in my life. So, I don't know. I wish everyone well, but you need to focus on yourself. You need to stop putting your hand out. Everyone's hands are out, everyone wants things for free. You've got to put in the work, you've got to grind, you've got to go through the struggle, and you've got to get it.
"You deserve it, go get it. Don't complain, don't cry. Get the fuck up and go get it. And a lot of people don't do that. A lot of people cry and complain and put their hand out and beg, and it never goes well. So, I don't know. There needs to be something. I just don't know what that is."
Comments
comments