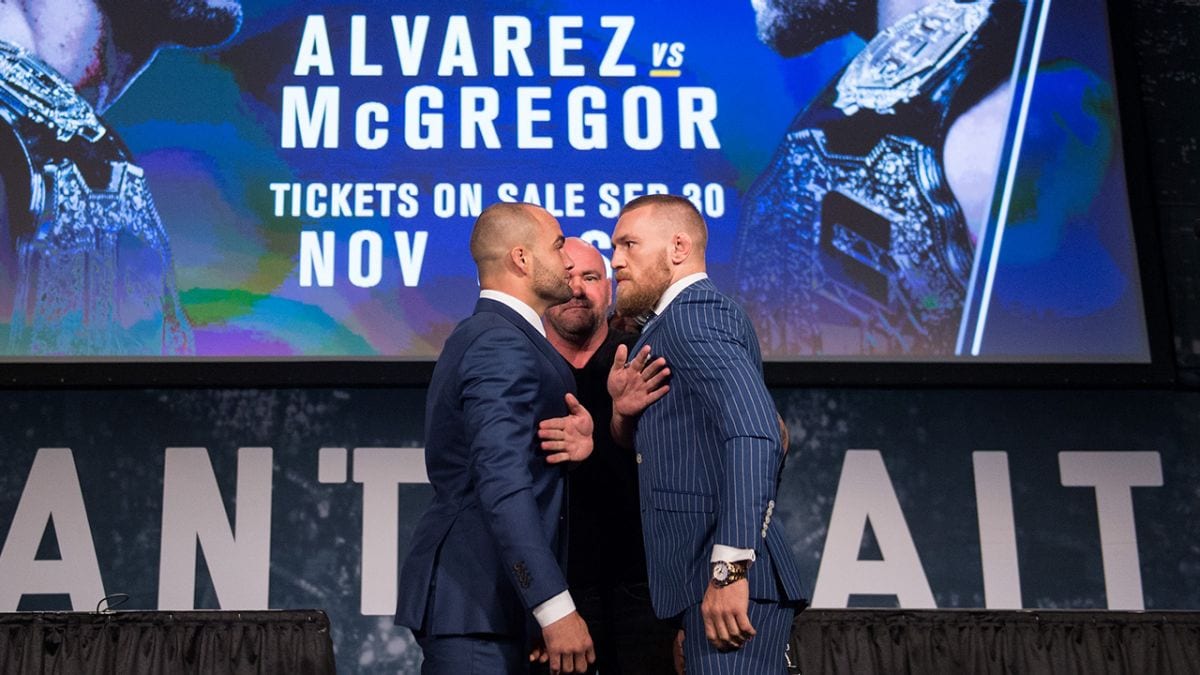 For someone who could potentially become the first man in UFC history to hold two title belts simultaneously, Conor McGregor isn't intimidated by the challenge in front of him.
At UFC 205, McGregor faces the UFC lightweight champion Eddie Alvarez, who stunned the world with an incredible victory over Rafael Dos Anjos earlier this year. Yet, despite facing a hard hitter with good wrestling, McGregor remains unfazed.
"I don't think he poses any threat," McGregor said of Alvarez. "He's a tough kid. He's got some good fights, some good experience. I'm expecting to come in and fight with his heart, but I don't see it going well for him. I see him unconscious.
"My fist is bigger than his head. I will plant him with a shot and goodnight. I feel it's going to end early and It's going to be devastating."
While some have suggested McGregor could find himself in enemy territory — New York isn't too far a distance from Alvarez's hometown of Philadelphia — the UFC 205 press conference seemed to indicate otherwise. The fan's in attendance were very much in favour of the Irishman, and even booed the American.
"New York is mine," McGregor said. "The Irish built New York. We run the entire East Coast. Where Eddie is actually from, Philadelphia, the Irish have been running Philadelphia for a long time. The Irish mafia has strong links in there. I know he knows about my people. I know he knows about who we are. It's an honour to fight on my home soil."
UFC 205 takes place on Nov. 12 at Madison Square Garden in New York City.
Comments
comments