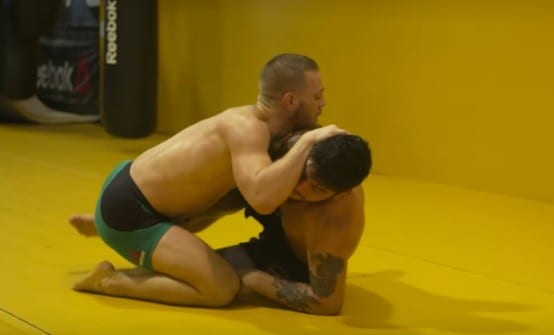 Dillon Danis garnered plenty of attention since winning double gold at IBJJF NO-GI.
The young jiu-jitsu star has been training with McGregor and the rest of Team SBG in the lead up to UFC 205, where McGregor faces Eddie Alvarez for the lightweight title. 
Brought in as a training partner for both of McGregor's last two camps, Danis finds himself receiving the backing of one of the UFC's biggest names — and is quick to return the compliments.
"I always say, he's an animal," Danis said. "People underrate his ground game, I think he's going to show how good he is on the ground. He has a great coach, John Kavanagh, who's a technician on the ground, so technical. I can't really explain, that's all [McGregor] is, all he does is think. All positions he's amazing, gi and no-gi. He's a very well rounded jiu-jitsu player, just hasn't came out yet. I feel like he's going to prove it.
Danis, has long been rumored to be eyeing up a switch to mixed martial arts, certainly feels he's getting something from being around championship caliber.
"Yeah man, it's rough," Danis said of training with team SBG. "The time you step in the cage against him, or any of these guys, then you realise what you're up for. then you realise how much of a man, or how tough you are when you get in there and you have to go against a world champion MMA fighter and you've really never done it before.
"That takes heart and courage to do it, so I'm definitely going through the ringer, but I like it. This is the life I chose."
Next up for Danis is a match at grappling bout against Jackson Sousa at Polaris 4 in the U.K. Despite his young age and his smaller size, McGregor feels Danis owns advantages in sheer determination that opponents can't match.
"Since he came here, he's been non-stop in the gym," McGregor said. "He's ready. He's a solid kid. Size means nothing, we're putting him through the ringer. He'll go in there and dominate. I feel his pace is what sets him apart from the bigger guys. Usually you go with the bigger guys and they'll rest in certain positions or they wont have that work ethic like he does.
"He keeps hustling. You might stop the first wave, maybe even the second, but then theres the third, the fourth, the fifth. The wave of attacks keep coming. So when he wants to switch it on, he switches it on."
McGregor, a man known for keeping his circle of training partners small, then offered perhaps the most ringing endorsement he's ever made.
"He's got my mindset, he's like a protégé," McGregor said. "We've been talking a lot about the mental side of things, I mean, all you got to do is look at his results. He went in and won that double gold at Pan-Ams. Heavyweight division. A blackbelt, he's only a kid. That's the mindset we bring here."
Comments
comments