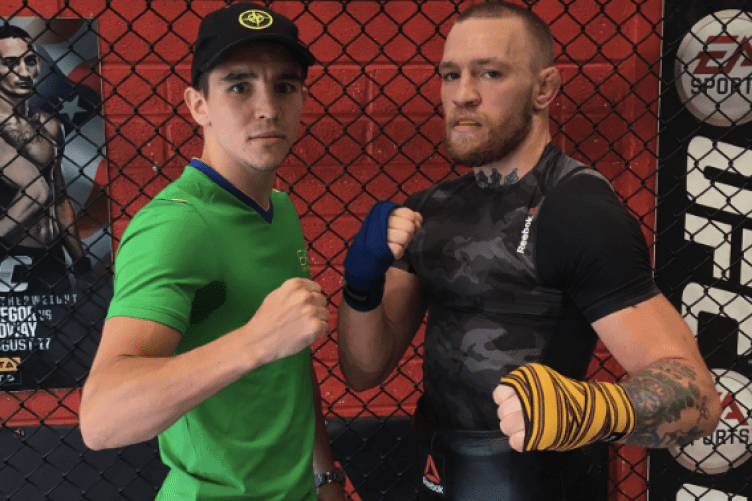 With Conor McGregor showing the path to success is possible, many other young Irish combat athletes are beginning their journey into professional careers with an opportunity to see how they can find themselves on the world stage.
Boxers Michael Conlan and Katie Taylor, for example, have both mentioned their MMA counterpart as a model to emulate, and on Friday night in Belfast, Conlan had a unique opportunity to receive some sage advice.
Speaking at a Q&A session, Conlan was invited on stage to sit aside McGregor, as the two discussed how Conlan could make the most of his career.
"I've no doubt Michael, you're a solid, solid boxer," McGregor said to Conlan. "You are skilled boxers down here [Belfast]. You've got good backing, and the sky's the limit for you and I look forward to following your career. The sky is the limit, you just have to stay focused.
"I don't have to tell you to train hard. You're hard worker and a successful amateur boxer and you're climbing into the pro ranks. I don't have to sit here and say 'hey kid, hit the bag three times a week.' You go in and you be yourself, get that win, and then there's no stopping you.
"So you just keep your head down, stay working, take no prisoners in there. I just have to tell you to go out and be yourself, take no shit. That's the main thing, take no prisoners. Let the whole division you're in know what you're coming to do, then go out and follow what you've said, go and do it, and the rest falls into place."
Conlan actually found himself in something of a media storm earlier this year, after furiously reacting to a dubious corrupt decision after one of his bouts in the Olympics. While some were angry at the young Irishman for swearing numerous times on television, McGregor (who's not shy of a few curse words himself), said it was the perfect behaviour.
"You stuck the finger up, you were who you were around your own people," McGregor said. "That's the way to be. Be who you are, let the fighting in you come out."
With Conor now technically a licensed boxer himself, and lining up a potential mega-event with a big name boxer, he even made sure to mention that Conlan would be involved.
"I'm with you all the way, and I told you this before, but depending on how this boxing licence thing goes, whether it's Floyd [Mayweather] or whether it's not, or whether it's one of those high guys up there," McGregor said. "I'll be organising the card, I'll be organising the undercard, and I'll do exactly what I done for the Irish in the UFC.
"I'll kick down that door, I'll get them in, I'll give them that break. That's something I'm planning on doing."
Until then though, it will be Conlan giving McGregor a stage to shine on. As when Conlan makes his professional debut at Madison Square Garden next year, McGregor will be accompanying him to the ring, carrying out the Irish tricolor.
Mr @TheNotoriousMMA carring out the Tri Colour for my debut fight on St Paddys Day NY MSG!!! @trboxing @mattmacklin pic.twitter.com/tvHwmr17b7

— Michael Conlan (@mickconlan11) December 2, 2016
Comments
comments