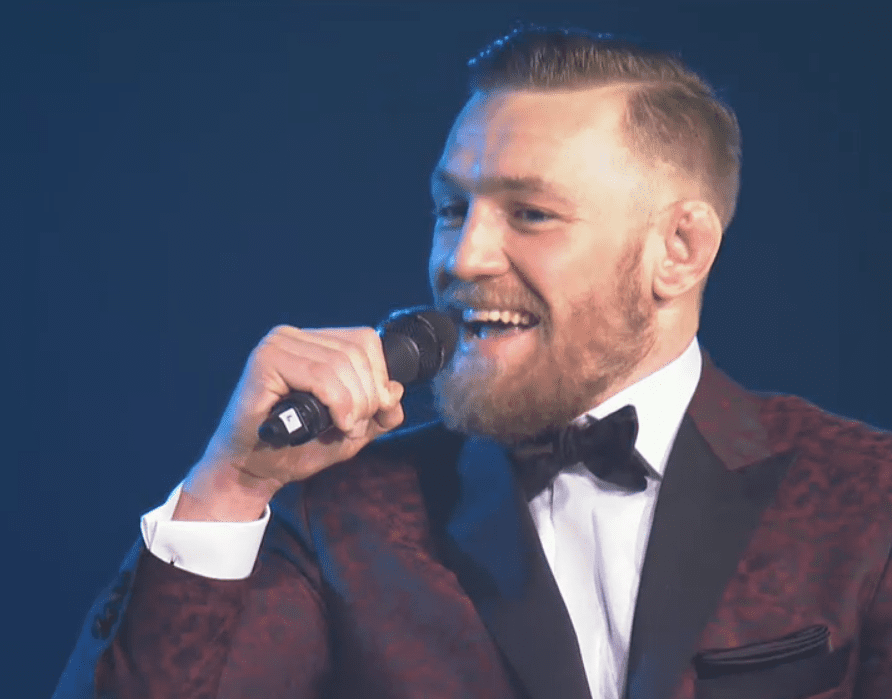 Conor McGregor might not have been talking too much recently, but that doesn't mean he's been inactive.
Speaking at an "An Evening With" event in Manchester tonight, McGregor revealed that for quite some time, he has been in talks with boxing great Floyd Mayweather, in an attempt to put together the mega-fight that so many have disregarded.
But, disregarded or not, McGregor says the fight is much closer to fruition than many believe.
"I have my eyes on one thing, and that's Floyd Mayweather," McGregor said. "Me and Floyd have got together and figure it out the same way him and Manny [Pacquiao] figured it out. Once we come to a set number that I'm happy with, he's happy with, then we go to the customers, we go to the promoters, the buyers. And then we get it done.
"That fight is more than just being explored. That fight's been in the works for a while now. There's a lot of steps to get done, there's a lot of things to get done, but it's the fight to make.
"A guy said to me, 'why conquer one world when you can conquer two?' So I'm going to conquer two."
One of the largest and clearest obstacles that seems to be a roadblock to the bout taking place is the involvement of the UFC. McGregor is currently under contract with MMA's premiere promotion, but believes that there is route available that could allow him out to accept the fight regardless namely the 'Ali act'.
The 'Ali Act' is legal legislation that states a promoter cannot stop a licensed boxer — something that McGregor now finds himself as — from accepting a fight.
"With the Ali act, I believe I can [get the fight done] especially now there is offers on the table. But it's smoother with all involved. I think we're all about good business. I've done great business with the UFC, with Dana, with everyone. I think it's smoother if everyone just gets together and gets involved. But again, everyone's got to know their place, so we'll cross that bridge when we come to it.
"There's Mayweather promotions, there's the UFC and now there's the newly formed McGregor promotions. Nobody's my boss."
Recently, UFC president Dana White went to various media outlets and publicly offered both Mayweather and McGregor $25 million to fight each other under the UFC banner. But while $25 million is a substantial amount of money, for a fight that could transcend sports, both McGregor and Mayweather weren't too impressed.
"I'm happy that he made the offer, we're getting there," McGregor said. "We're moving up. First of all it was never going to happen. Now there's an offer on the table. It's still not there yet, but it's closing in on it. But if Manny and Floyd did half a billion [dollars in PPV], I believe this one — cross sports, never before seen — will be the first ever billon dollar fight. People gotta pay for a billon dollar fight.
"It's getting there. We'll see."
UFC involvement aside, the other larger sticking point appears to be who receives what amount of money. While Mayweather has a huge and prolific career behind him, it's McGregor who has the recent successes. According to the Irishman, the negotiations are a sign of a different attitude from the boxer — fear.
"He's the scared side," McGregor said. "Lets be honest, he's not trying to have a real fight, he needs rules to protect him. I don't need rules. He can say he's this and he's that but in reality he's scared  shitless. He is scared shitless. If I decide to just fight him — fuck the UFC, fuck MMA, fuck boxing, fuck sports fighting — lets just say we fight, it would be the easiest fight ever.
"My fist is bigger than head … I know every single shot he's been hit with. I know every single shot he's been hurt with. I know southpaws have caused him a hell of a lot of trouble. I know everything. Trust me, I don't care what ruleset it's under. Most people don't know shit about fighting, I'm going to teach him."
While the UFC lightweight and featherweight divisions are sorting themselves out in his absence, McGregor believes the mega-fight is the only thing that currently makes sense. And, as he plans to fly to Las Vegas to meet with Mayweather and resolve terms, McGregor estimates the entire affair will be settled soon.
"I believe it will happen by the end of this year, or early next year," he said.
Comments
comments