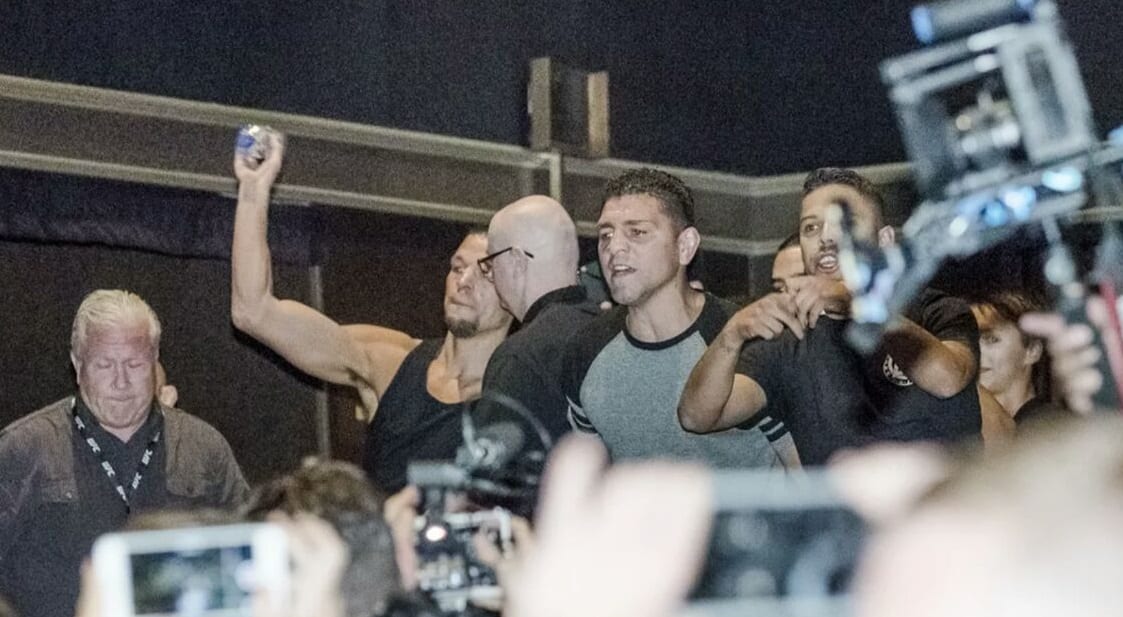 In the aftermath of the bottle-throwing incident at the UFC 202 pre-fight press conference, UFC president Dana White warned that both Conor McGregor and Nate Diaz would face "massive fines" as a result.
He wasn't wrong.
McGregor was today fined $150,000 (5% of his $3 million purse) and ordered to complete 50 hours community service by the Nevada State Athletic Commission as punishment, despite the initial recommendation from the Nevada Attorney General of $25,000 and 25 hours of community service.
McGregor, who appeared at the hearing via conference call from Dublin, apologised for his role in the incident before any judgement had been handed down, saying that he had "acted erratically".
"I just want to apologise for the incident", McGregor said as he addressed the hearing. "It was a very unusual incident that unfolded. I acted wrong and all I can say is that I'm sorry."
McGregor indicated to the hearing that he would accept any punishment that was handed down to him, even suggesting that (in addition to a financial penalty) he would collaborate with the Nevada Athletic Commission to produce an anti-bullying campaign video.
Some members of the commission were arguing for a fine as high as $300,000, before eventually agreeing on $150,000. Still, the sum is widely considered to be unusually excessive for McGregor's role in the incident.
Pat Lundvall, one of the panel of commission members, wanted to emphasise the idea that they should fine fighters based on a percentage of their purse, as opposed to the considering of a final figure. With this thinking, the committee would focus more on 5% – 10% of McGregor's purse, as opposed to the fact it would be a fine numbering in the hundreds of thousands of dollars.
The same commission handed Jon Jones the comparatively low fine of $50,000 for his press conference brawl with Daniel Cormier at the UFC 178 media day. Cormier admitted today on the MMA Hour that he was fined just $2,500.
Also, Lundvall noted that the NSAC wanted their anti-bullying campaign to be "glossy," and that with good campaigns costing money, wanted the fine to be larger. She also went on to express that McGregor was an athlete who needed to be both "taught a lesson" and to "be humbled".
Nate Diaz was granted a continuation for his hearing for the same in the incident. The next commission meeting is scheduled for November 10th.
Additional reporting by Oscar Willis.
Comments
comments