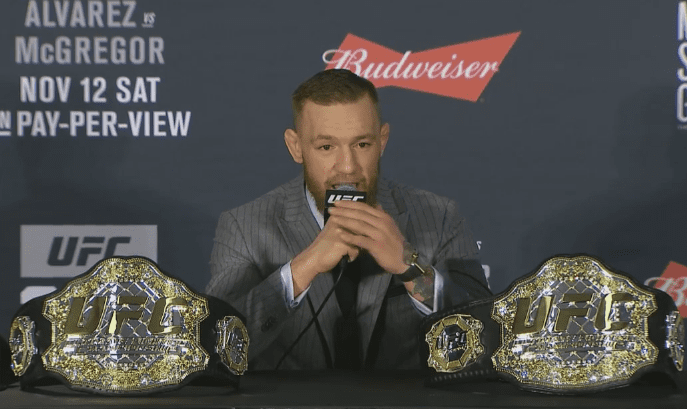 Conor McGregor's post-fight press conference after UFC 205 may have been as memorable as his performance inside the octagon, with the Featherweight and Lightweight champ sending waves throughout the MMA world.
The two-weight champion, who KO'd Eddie Alvarez in the second round of their headline bout in New York last night, took the stage for the press conference with both of his belts before giving the media more headline worthy content than the rest of the card's fighters combined.
Keeping his promise of delivering a huge announcement after the fight, the SBG star revealed that he is set to become a father in the early months of 2017, and that the newest member to his family could see him re-evaluate elements of his career, starting with some time off from the sport.
"I'm going to be a daddy early net year. I'm crapping my jocks, I don't even know what way to take it".
McGregor stated that the news has made him consider his future, and alluded to concerns over having a "celebrity child" and raising them under the exposure and scrutiny that he himself feels from the media.
"I don't want to be bringing a child in to anything like this, I don't want any celebrity type s**t, I hate all of that, I don't want my family to be like that.
"So I'm just going to have this baby, take a little time and see what way I feel after that".
The major announcements didn't end there however, with McGregor soon moving on to the subject of his contract and payment, stating that he wants to meet with the UFC's new owners and discuss a partnership and equity in the company. Referencing celebrities who now own shares in the company, McGregor feels that the figures and publicity he draws make him even more valuable to the company and wants to be paid accordingly.
"They've got to come talk to me now, because nobody has come to talk to me after the sale(of the company) has happened as a business man. I've been approached as 'hello' and that type of stuff but I've earned something. I mean, who owns the company now? There's people that have shares in the company, celebrities, Conan O'Brien owns the UFC nowadays so where's my share, where's my equity?
"If I'm the one who's bringing this, they've got to come talk to me now. I've got both belts, a chunk of money, a little family on the way, if you want me to stick around and keep doing what I'm doing let's talk, but I want ownership now, I want equal share, I want what I deserve, what I've earned".
A move into ownership shares for a fighter would be unprecedented in the UFC, but with the Irishman's star continuing to grow he feels that his worth is currently under appreciated.
"Bring me on board for real. I need to be properly on board with this as an owner or have an equity stake in the company.
"Whoever runs this shit now has to come to me and give me the real slice. I've earned this."
Finally, the new two-weight champ discussed potential future bouts, refusing to rule out a fight for the Welterweight belt against Tyron Woodley, and playing down the idea of a bout with Khabib Nurmagomedov due to the Russian's history of injury.
"He's(Khabib) fought once in eight years.
"He doesn't fight frequently enough for my liking. For me to commit to something like that, I'm going to need solid proof that people are going to show up and he's a consistent pull-out merchant.
"He had a good performance tonight, fair play to him, but we'll see how it goes.
"I need to see activity, I need to see consistency, I need to see me.
"If you want me to come and change your life, if you want me to come pick you then you'd better have some damn reasons for me to do that."
You can watch the entirety of the press conference below, including interviews with the rest of the card's fighters and UFC President Dana White.
Comments
comments