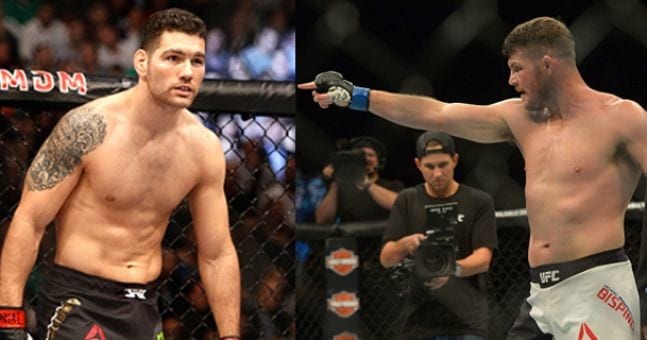 With Luke Rockhold's recent injury, which caused him to withdraw from a UFC Fight Night bout against Jacare Souza, the Chris Weidman – Yoel Romero bout at UFC 205 has taken on new connotations for title contentions.
While Romero presents a very big (both figuratively and literally) challenge for Weidman, he knows that a victory brings him closer his old middleweight title shot — and a cherry on top in the chance to beat Michael Bisping.
"Yeah, I think if I win this fight the way I think I should win it, I think it's a no-brainer that I'd be able to fight for the title," Weidman said, speaking to Gotham magazine. "As far as Bisping, I really don't have any ill will towards the guy, but this is a guy who's crapped on my career since I got into the sport.
"I got into the UFC and a couple fights in, I'm fighting for the title against Anderson Silva. I was undefeated, and Bisping has been in the division for a long time and never had fought for the title. Here comes this young kid that surpasses him. I felt like there was a lot of bitterness and jealousy on his part. He would just rip apart every win I had, He couldn't wait. When I finally lost–the guy went even harder. He's a talker, and he doesn't bother me too much."
Bisping and Weidman have actually exchanged barbs for years, with Weidman long maintaining the Brit presents no challenge.
"I think, to be honest with you, he'd probably be the easiest fight I've had in a long time," Weidman said. "There's no such thing as an easy fight, but like I said, he would be the one easy fight. He would be the easiest fight of my career, including Reubem Lopes, the guy I fought for my first fight ever. He was 0 and 0, undefeated fighter. I think [Bisping] might be even easier than that."
While Bisping has been making calls to face either Nick Diaz or Georges St-Pierre at UFC 206, the champion has previously stated that past them he would be most interested in a bout with Weidman, saying the bout could take potentially place early in 2017.
Comments
comments