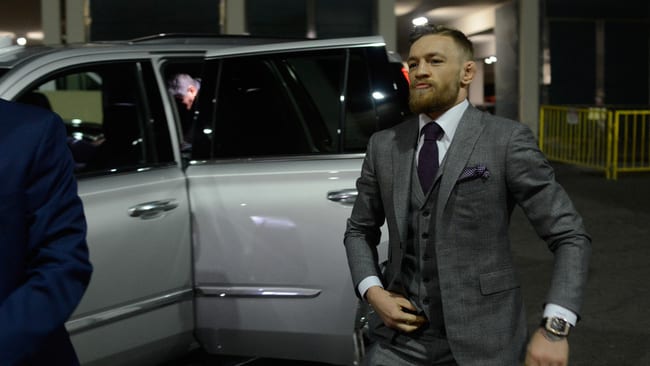 The worlds boxing elite continue to call out UFC featherweight champion Conor McGregor.
First it was Floyd Mayweather to garner headlines, when earlier this year he announced he would be coming out of retirement to make the McGregor fight in what promised to be a blockbuster payday for both men.
While many figured saying McGregor's name was just a way for Mayweather to keep himself in the spotlight, McGregor seemed open to the idea, posting a mock-up poster of the spine-tingling potential bout.
As of yet that contest has not come to fruition.
Following Mayweather, it was British boxer Amir Khan who started angling for a cross-sport bout; albeit in a different fashion. So far, Khan is the only boxer to challenge McGregor in a mixed martial arts bout.
In an interview in early July, Khan said of a potential UFC fight:
"I'm a little different in that sense, where I would get into a cage and I would fight in MMA rules, so that's the difference between me and Mayweather," said Khan. "I would definitely give it a go. It's something to learn, as well. I'm at that age where I'm still learning, adapting and getting better. So I still have time under me as well. I'm still a young lad and got loads left in me.
To drive his own message home, Khan posted a picture to Instagram of himself in a UFC gym, claiming "training has started."
That post was made in July, and since then not much more has been made of the boxer's potential move to mixed martial arts.
All this brings us to pugilist number three.
Canelo Alvarez has recently took slight at a comment McGregor made during an interview with the LA Times.
During the interview, McGregor claimed that combat sports was entering an new era, while referring to Canelo's seeming reluctance to fight fellow boxer Gennady Golovkin.
"When you look at this Canelo [Alvarez] situation, McGregor said. "It's an era of cherry picking.
"It's not like that with me. I'm here to challenge myself. I'm training to go up two divisions, and it's going to be a great fight."
Canelo responded to those comments quickly, writing off McGregor as someone who "gasses after two rounds."
Then, after McGregor defeated Nate Diaz after a five round war in a blockbuster pay-per-view event Alvarez seemed eager for a match up.
"If he wants to try out boxing, then [we can fight] anytime he wants, Alvarez said to FightHub TV this week. "If he wants to come over to this side of the world and try boxing, anytime he wants, to see that it's not as easy as he thinks."
While McGregor is yet to respond, his next move is as of yet unknown. Eyebrows were certainly raised during his UFC 202 post-fight press conference, where he cryptically said"shit's about to hit the fan, I feel."
One thing is for certain, there is a multitude of options currently in front of 'The Notorious,' whether that be inside or outside of the octagon.
And as for boxing in particular? Don't rule it out. After all, on the same night that he beat Diaz, McGregor said regarding what's next: "there's a lot of options, some might not be this sport."
Comments
comments