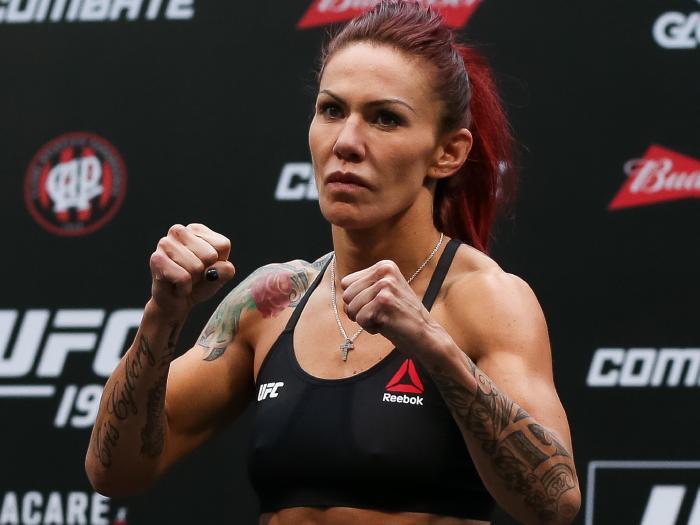 Fight week is often tough of fighters. Travel, media obligations and fight preparation all become that much harder when mixed with the arduous process of cutting weight.
For Cris 'Cyborg' Justino, it's a week that seems harder than most.
Continuing her odd relationship of in-but-not-in with the UFC, the Invicta FC featherweight champion is once again shredding the pounds to meet a set catchweight of 140 pounds, five lower than her usual fighting weight of 145.
A procedure that, all in all, doesn't quite add up.
When it comes to Cyborg the UFC maintains a hardline stance: there is no 145-pound division for women in the organisation, and so Justino must meet 140 to make bouts between her and women who fight at bantamweight (135 lbs) fairer. The company doesn't want to make a whole division for essentially one woman to compete in.
Fine. But the logic behind such thinking waivers when it's taken into account that there is no common 140-pound division for women in MMA. Or when Justino's opponents are happy to face her at her standard featherweight.
Not that we're that surprised, but Lansberg just said she would have taken the fight at 145 if that was the weight offered to her.

— Fernanda Prates (@NandaPrates_) September 21, 2016
Losing the extra five pounds becomes pointless. Arbitrary. And at that point, the whole operation not only becomes pointless, but tasteless too.
In the lead up to Cyborg's last fight, which also took place at 140 pounds, footage emerged of Justino sobbing with the effort as she strained to shred the extra weight.
With that scene in mind, most felt post-UFC 198 that the 140 experiment was done and would wisely be left in the past.
Instead, Cyborg was booked in a catchweight bout at UFC Fight Night 95, which takes place this Saturday in Brasília, Brazil. With the booking, the questions rose again, and grew louder with every pound shred.
On Monday, appearing on MMAFighting.com's The MMA Hour, Justino revealed that renowned nutritionist George Lockhart was having her take birth control as a method of losing the extra weight. A move that looks even more concerning when a video uploaded to Justino's YouTube channel showed the two arguing over the decision.
This morning, it was reported that an already lean Cyborg currently weighed 155 pounds. Leaving her 15 pounds left to lose with 48 hours to do it in.
Due to the catchweight nature of the bout Cyborg doesn't even have the benefit of the usual extra pound to spare, meaning should she hit the scales at 141, it would consist as her missing weight. Should that happen, 20% of her purse will then go to her opponent.
And yet oddly enough maybe that's what it will take to put an end to the whole unhealthy affair.
Comments
comments