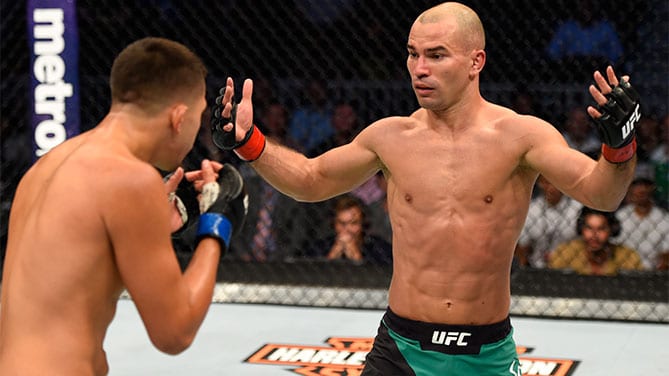 In the latest bout announced for UFC Belfast, SBG's Artem Lobov is set to face Teruto Ishihara.
It's a meeting that has fight of the night written all over it.
Lobov, who was introduced to the UFC masses via The Ultimate Fighter, was last seen at UFC 202, where he came away victorious over Chris Avila. Lobov gained attention and support in the lead up to the bout for being notedly frank about his position in the UFC.
After losing two in a row, Lobov went into the fight with Avila, publicly stating that anything other than a dominant win would result in him being cut from the UFC.
Even now, despite his recent victory, Lobov remains focused.
"I definitely need another impressive performance in order to secure my UFC spot," he told The Mac Life.
With teammate Gunnar Nelson headlining the Belfast card, and Conor McGregor fighting one week prior, Lobov will have himself high level training partners all peaking at similar times.
Lobov is relishing the chance at fighting at home. He hasn't fought in Ireland since 2014, having made every one of his UFC appearances in Las Vegas.
"Fighting at home is great," Lobov said. "I always fight in Vegas, now let them travel and see how it feels."
Ishihara spent the entirety of his last camp at Uriah Faber's Team Alpha Male. Whether or not the Japanese 25 year old will return to Sacramento or train in his native Japan is unknown, but either way it'll be a journey to Ireland.
Prior to his inclusion on UFC Belfast, Lobov had made headlines for pushing for a fight on UFC 204 in Manchester.
Earlier this week, Arnold Allen pulled out of a bout due to injury, leaving scheduled opponent Mirsad Bektic without a dance partner. Lobov offered himself up, but the UFC had different plans.
"[The] Bektic fight would have been a nice warm up," Lobov said. "But Fight Night Belfast is my priority."
UFC Belfast takes place on November 19 at the The SSE Arena in Belfast, Northern Ireland.
ANNOUNCED BOUTS
Dong Hyun Kim vs. Gunnar Nelson
Teruto Ishihara vs. Artem Lobov
Anna Elmose vs. Amanda Cooper
Ian McCall vs. Neil Seery
Ross Pearson vs. James Krause
Zak Cummings vs. Alexander Yakovlev
Kevin Lee vs. Magomed Mustafaev
Justin Ledet vs. Mark Godbeer
Timothy Johnson vs. Alexander Volkov
Comments
comments