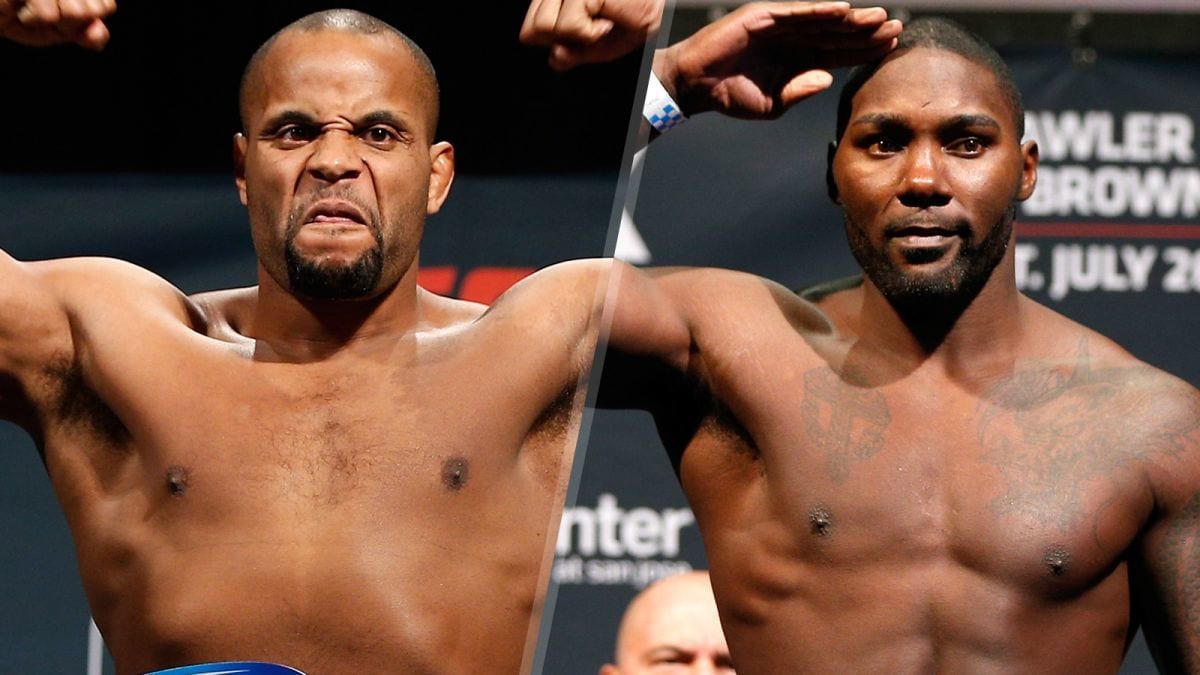 Anthony Johnson wants his shot for the light heavyweight championship, and he wants it to take place in New York… something UFC champion Daniel Cormier seems unwilling to agree to.
Taking to social media earlier, Johnson challenged Cormier to a bout at UFC 205 posting:
"DC I want to fight you in New York City on Nov 12. We got 7.5 weeks to get ready and put on a fight for the fans of New York and the world to remember. It is our time to do battle! When Jon got into trouble and was removed from my title fight, I accepted you as an opponent on 3 weeks notice despite the dramatic change in fight style. You were the better man that night and took the belt. I didn't demand an immediate rematch, it was well within my rights to do so. I went to the back of the line and fought my way back to the front. To headline the the event in Maddison [sic] Square Garden is a once in a lifetime opportunity. Let's do it! Balls in your court Daniel. Enough of this waiting game that you or UFC is playing!"
Johnson's post came just days after Cormier spoke on radio station SiriusXM, where he mentioned that his appearing at UFC 205 was likely off the table.
"Honestly, that window is gone for me," Cormier said. "I need like 10 to 12 weeks because I enjoy my time away from the Octagon. I hang with my family, we go on vacation, we do fun things and I tend to eat quite a bit when I'm on vacation…So that time for me is gone. I couldn't compete to the best of my ability in New York. I wouldn't be comfortable taking a fight there."
Cormier doubled down on those comments when responding to Johnson via Twitter.
u deserve shot. I'm not waiting! Sorry bud NYC won't happen. But you can get it again Dec 30th. #downgoesrumble https://t.co/QdZeOFtiHk

— Daniel Cormier (@dc_mma) September 15, 2016
The two then went back and forth via a series of tweets, with Johnson repeatedly pushing for a bout at 205, and Cormier pointing to UFC 207 on Dec. 30 as a preferable date.
December 30th I'll be waiting for ya. No wrestling! I'll give u a shot! #howamisogiving I'm gonna knock you out! https://t.co/rUY0bSVflW

— Daniel Cormier (@dc_mma) September 15, 2016
Boy stop playing with your ding ding and thinking you can knock me out 😂😂😂😂 https://t.co/7SLdFY2xBs

— Anthony Johnson (@Anthony_Rumble) September 15, 2016
Truth I'll knock you out before u knock me out. U don't hit as hard as people think. I'll stand right in front of u https://t.co/zA5JkQMQyM

— Daniel Cormier (@dc_mma) September 15, 2016
Johnson was last seen at UFC 202, where he defeated Glover Teixeira in just 13 seconds. UFC president Dana White had previously shown an interesting in matching Johnson up with a returning Jon Jones (who remains the interim UFC light heavyweight title holder), presuming he gets through his most recent scandal unscathed.
Johnson, it seems, would rather not wait.
I'm not fighting for a stankass interim title…

— Anthony Johnson (@Anthony_Rumble) September 15, 2016
Comments
comments