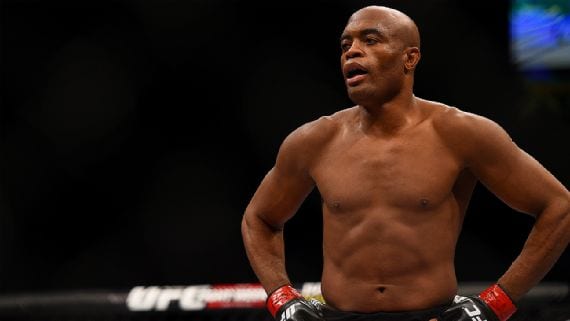 It's becoming quite a list.
Adding to the voices of Khabib Nurmagomedov and Jose Aldo, UFC middleweight legend Anderson Silva has now spoken out about his displeasure with the UFC. In an interview with Brazillian media UOL Esporte, the former champion detailed what he felt was an increasing amount of disrespect from the organisation, that he no longer wishes to put up with.
"I haven't even received a 'thank you' from Dana [White], or Lorenzo [Fertitta] after the last fight," Silva told UOL. "Of course, I was the one who wanted to fight, who took the bout, but I know my worth, my importance.
"I was very disappointed with the lack of respect that the UFC has been treating the Brazilian athletes with. I'm an athlete who took the sport to another level. I don't get, or have got, people's due respect. This has made me very upset, sad, and disappointed with the UFC."
It's likely that the Brazilian athletes Silva refers to contains Jose Aldo (a personal friend of Silva's), who has repeatedly stated he wants to be released from his contract after the UFC failed to place him in a fight with Conor McGregor.
For Anderson, he feels that after jumping in the cage against Daniel Cormier on less than 48 hours notice to help UFC 200, he deserves a little bit more attention from the promotion. So when the UFC offered him a position as a standby, in case either Michael Bisping or Dan Henderson would be unable to make it to UFC 204, Silva wasn't impressed.
"I [haven't spoken] to them or anyone else," he said. "They even offered me to be on standby in case something happened to Bisping or Henderson. But the most absurd thing is how it got to me. They didn't even talk to me; my representatives passed it along.
"I'm not a message guy. After everything I've done, I have to be on standby for a fight I won? I thought it was a little unpleasant."
It all adds up to put Silva's career in an odd place. Having gone seventeen fights undefeated, Anderson now finds himself without a victory in his last five. His most recent appearance, against Cormier, is most likely to be unconsidered due to the short notice with which he accepted the bout.
Still, with what he perceives as unjust treatment from the company he has represented for so long, by describing a return to the cage as "hard to talk about," Silva seems at least prepared for that to be his last showing.
"I will say it again, I'm very disappointed with the way they've been treating me, I'm very saddened by all of this," he said. "I wasn't the one who said I was the best pound-for-pound fighter in the world; Dana White said it. Maybe he said it to promote his event, or because he really felt that way. We'll never know the truth.
"[The] fact is that everything I've done, no one else was able to do again. I don't mean to be conceited, arrogant, think I'm the best, but what I set out to do this entire time was to show I was different than the others. And this is not my opinion, it's everyone's."
Comments
comments