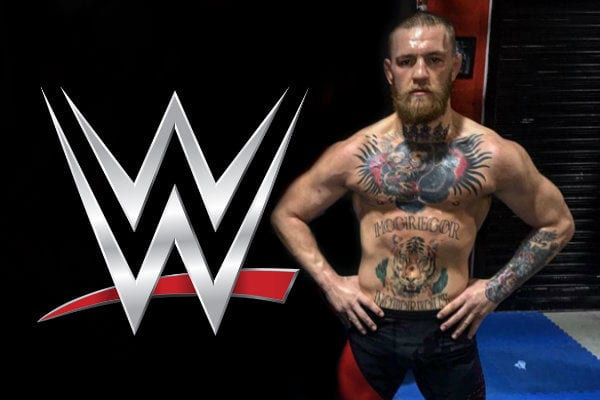 Conor McGregor statements seem to always get a reaction, and not just from those in the world of mixed martial arts.
Today, it would appear it's the ire of 'WWE Universe' headed the Irishman's way.
The controversy stems from the UFC 202 media call, where McGregor was asked about a potential future appearance in the WWE ring, perhaps in the same vein as former UFC Bantamweight Ronda Rousey's showing at Wrestlemania 31.
"For the most part, those WWE guys are pussies, to be honest," McGregor said. "They're messed up pussies, if you ask me. Fair play to Brock [Lesnar], he got in and fought, but at the end of the day he was juiced up to the fucking eye balls, so how can I respect that? And then what's the other guy? The other guy [CM Punk] hasn't fought yet, so I don't know about him yet."
"There's some dons in that wrestling game," McGregor said. "The McMahons, they're dons. Triple H is a don. The Rock is a don. But the rest of them are pussies."
With WWE fans reacting as expected, McGregor took to Twitter to clarify his statements… in his usual unique fashion. That tweet appeared to incense various names in the world of professional wrestling, with several taking to their own social media to respond to the UFC featherweight champion.
@TheNotoriousMMA @WWE very funny little guy. Why don't you get your head out of Dana White's ass

— Kurt Angle (@RealKurtAngle) August 7, 2016
Bring it https://t.co/e9guQ9bi0f

— notorious SB (@SashaBanksWWE) August 7, 2016
So much talk for a guy who fights 15 min matches twice a year…… Good for you Conor McGaiver.

— Rusev MACHKA (@RusevBUL) August 7, 2016
Your the size of my leg. Shut up. https://t.co/fBVEdf8hE1

— Roman Reigns (@WWERomanReigns) August 7, 2016
Never show a Jack Russell a mirror. It thinks it's a majestic Irish Wolfhound. Really, just an annoying wee yapper trying to sell tickets.

— Sheamus (@WWESheamus) August 7, 2016
I would pay good $$ to see @RealKurtAngle STRETCH THE PISS outta @TheNotoriousMMA and make him tap. #itstrue https://t.co/Uvo8H34nHy

— Bubba Ray Dudley (@bullyray5150) August 7, 2016
I think McGregor could do well in the featherweight division……if the WWE had one. https://t.co/90XGpSICS9

— AJStyles.Org (@AJStylesOrg) August 7, 2016
Whether or not the back and forth results in a McGregor-WWE appearance is as of yet unknown, although it was something Conor didn't rule out entirely. What is confirmed though, is that McGregor just got mentioned to millions of WWE star followers.
Comments
comments